Welcome to a guide to kids kitesurfing in the Dominican Republic. Kiteworld is based in tropical Las Terrenas and offers children and teens the chance to learn kitesurfing and kiteboarding in dedicated kids classes. As a parent, one should not be afraid to let the kids try it. The main factor is that they want it themselves. Children learn things intuitively and faster than grown-ups.
From which age on can children learn kitesurfing?
Regarding the minimum age for kitesurf and kiteboard lessons, kite schools tend to have different regulations. Kiteworld requires a minimum age of 8 years old. However this is also dependent on a minimum weight of 40 kg (around 90lbs) or a certain minimum height. What's absolutely essential when a kid wants to start with kitesurfing is a certain level of physical fitness, the willingness to learn and understanding for the challenges of this sport. In addition the child must be able to swim and shouldn't be afraid of water. If you are unsure if kids kitesurfing in the Dominican Republic is right for your child, drop your questions to kiteworld.
Which kite and bar is good for kids in the beginning?
To start with, a Trainer Kite would be best for kids learning – because if necessary they can just let it go. When a depower kite is used for the first time it should be a small one which is easy to handle. One strut or strutless kites around 6 sqm are ideally suited for this. The problem with normal kites with more struts is that they usually need more wind for staying stable in the zenith, and that with this wind they generate too much power for kids.
Kids have shorter arms so it's important that the depower adjustment of a bar isn't too long. Some brands produce special bars for women which have a shorter depower adjustment. Also a stopper-ball is useful to fix the bar and make it shorter, so that the kid can grab the bar after letting go. Kiteworld uses modern bars with easy-handling safety systems.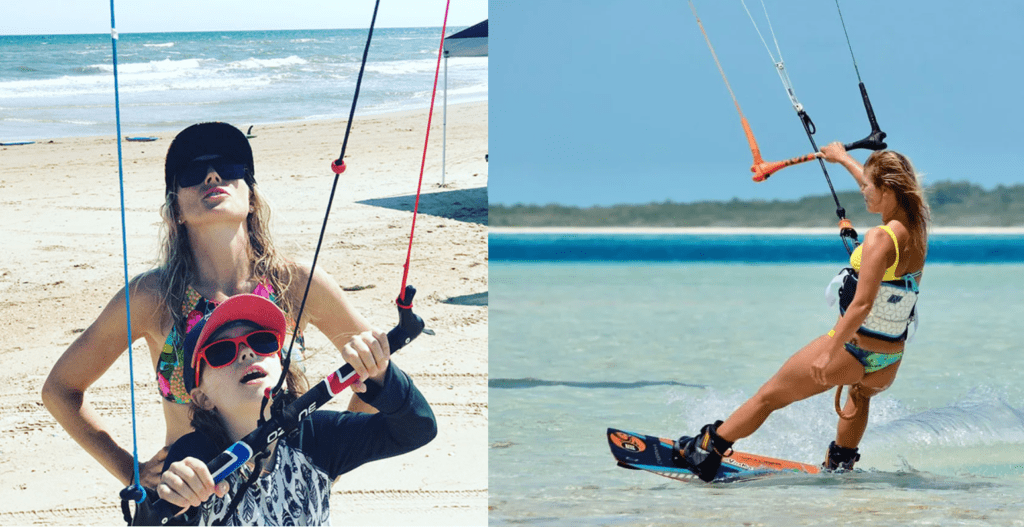 Kids kitesurfing in the Dominican Republic – lessons
Teaching children and teenagers kitesurfing is not the same as teaching kitesurfing to adults. Kids like to play. Kids love to have fun. Instructors need to teach children in a play-like fashion and progress them at the right speed.
Also children cannot just follow a normal curriculum for beginner kitesurfing students, because you run the risk that they might get scared of the kite or lose interest in the fun of kiteboarding. Keep in mind: you kinda only have one chance. If your child likes kiteboarding/kitesurfing, it will have something great for life. Or they might lose interest, and may never regain the passion for it.
So, with that in mind Kiteworld keeps the kids kitesurfing lessons in Las Terrenas fun and entertaining. The beaches of Las Terrenas are perfect for beginners. Flatwater combined with bays that provide a buffer to the constant winds are ideally for kids to hold a kite and stand up for the first time. As they progress, we can take the kids out into the stronger winds where they can enjoy the thrill of moving a bit faster across the water.
We encourage parents to jump in the water too, and try kitesurfing for themselves. Kids are very visual, and any parent knows that their kids will copy their parents actions and character. So if you as a parent are having fun – there is a good chance your kids will too.
Kids kitesurfing in the Dominican Republic – pricing
You and your kids can start a free trial to see if they'll enjoy a package of lessons. After which you can choose from 1:1 lessons or group classes for your kids. It will probably take 4-5 sessions for a kid to be confident with a kitesurf and stand up solo (depending very much on their age and maturity level). Here is a sample of our pricing below:
1. Hours 1:1 Group
2. Session  2h $ 120 $ 70 / pp
3. Discovery 3h $ 170 $ 105 / pp
4. Hooked 6h $ 320 $ 200 / pers

Kiteworld has a large range of suitable equipment for children, like harnesses, life jackets, and helmets in kids sizes. Check out our full pricing page for kids kitesurfing in the Dominican Republic – lessons and kitesurf packages in Las Terrenas.