The Dominican Republic is one of the biggest Caribbean islands and offers some of the best and most beautiful kitesurfing spots in the world with amazing wind conditions from December to September. The Dominican Republic kitesurfing spots are all easily accessible from most international destinations and will offer you some of the best kiteboarding experiences you'll ever have.
The Dominican Republic is a popular destination among kitesurfers thanks to its perfect kitesurfing condition, easy accessibility, relatively cheap prices, and its wide array of activities. From trekking in the jungle to relaxing on a beach, the country has a lot to offer besides kitesurfing.
The Dominican Republic kitesurfing spots are accessible to all levels, from beginner to professional, with winds averaging around 10 to 30 knots depending on the spot. You'll find flat water, beach break, and reef break spots, and small to big waves (between 0 to 2.5 meters). You won't need a wetsuit as water temperatures are usually around 25 to 28° Celsius.
Best Dominican Republic Kitesurfing Spots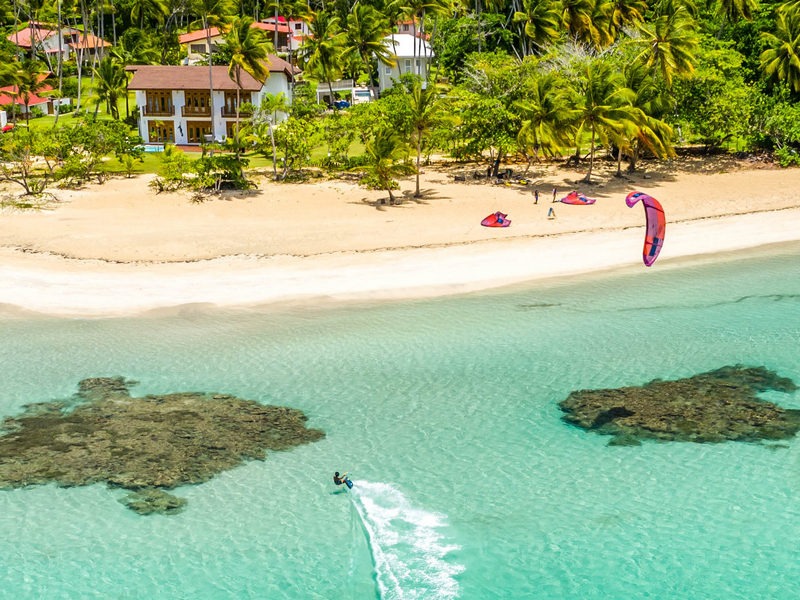 1 – LAS TERRENAS
One of the top Dominican Republic kitesurfing spots, Las Terrenas offers the best wind in the country for kiteboarding, averaging between 15 – 20 knots from December to September.
It's also a perfect place for beginners to learn kitesurfing in a safe environment. Advanced riders can too enjoy kiteboarding in Las Terrenas, and take advantage of the weather to improve, learning new tricks or discovering hydrofoil in smooth conditions.
The great thing about kitesurfing in Las Terrenas is that there are usually few people in the water, so you can concentrate on yourself and don't have to worry about other kites around you. Las Terrenas is not as famous as Cabarete, so few people know about this kitesurfing spot in the Dominican Republic, making it a top kitesurfing destination if you want to get away from the crowds.
The wind in Las Terrenas is a super steady thermal wind, starting around 1 pm and ending at around 6 pm.
Kitesurfing spots in Las Terrenas:
El Portillo
Offering side shore wind, downwind ride, and flat water, El Portillo is good for all levels. It's also a perfect place to try hydrofoil.  To get there, it's a 15-minute drive from Las Terrenas city center, then a 5-minute walk to the beach from the 5-star resort Bahia Principe Grand El Portillo. The access from the main road parking is through the bush just before the all-inclusive hotel Bahia Principe (in front of the "Tortuga" blue sign).
The beach there is beautiful and pretty wild, it's also a good spot for snorkeling off the shore.
Punta Popy
In Punta Popy, you'll find side on-shore wind, with the sea a bit wavy. It's a good Dominican Republic kitesurfing spot for intermediate to advanced levels, where you can ride downwind and try hydrofoil. The spot is easily accessible, right in Las Terrenas city center with many restaurants, bars, and small hotels around it.
Read more about kitesurfing in Las Terrenas.
Other things to do in Las Terrenas
There are plenty of things to do in Las Terrenas if you come with people who don't kitesurf, on bad wind days, or in the morning before the wind picks up. You could take a half-day trip to trek to the beautiful El Limon waterfall and swim in its crystal-clear water, go on a boat trip for whale watching, or explore Taino caves and the local fauna in Los Haitises National Park.
Within Las Terrenas, you could go surfing in the morning, spend some time relaxing at the beach, or learn the bachata in the evening. You can also rent an ATV on go for a fun ride along the Ruta del Cafe (Coffee Road) to discover rural life in the Dominican Republic and sample some local food.
Discover more things to do in Las Terrenas.
2 – CABARETE
This is the best Dominican Republic kitesurfing spot for wave riding with an amazing downwind to Encuentro beach where you can surf on the morning glassy waves that average 3 to 6 feet. The wind blows between 20 – 25 knots from mid-day to 6 pm.
Cabarete is a great kitesurfing spot for advanced riders as there are usually a lot of kites in the air and a big shore break, that make it difficult to learn for new riders or for people that haven't fully mastered kiteboarding yet.
Cabarete is a world-renown kitesurfing spot where professional kitesurfers like to hang out and practice their freestyle figures. People who know how to kitesurf well will have a blast there.
Best kitesurfing spots in Cabarete:
La Boca river: onshore wind, flat water, expert level, downwind, no parking, 15 minutes from the city center, no hotels around.
Bozo beach: side shore wind, super choppy beach break, all level, hydrofoil, downwind, wave riding close to the reef, parking in the city, located in the heart of the village, hotels, restaurants, and bars.
Kite beach: side shore wind, intermediate/ expert level, reefy, hydrofoil, downwind, parking, hotels, restaurants.
Cabarete Bay: also known as cab bay, the most crowded spot with a lengthy reef break, perfect to catch waves, the launch area is toward the right, try to get out of it once you're in the water if you want to avoid the crowds.
Other things to do in Cabarete:
When the wind is not good enough for kitesurfing there are plenty of other activities to do and places to visit around Cabarete. When the waves are not too strong, you can go on a kayak or stand-up paddle excursion, getting some more time in the water. In the morning, try a surfing class or go tubing for a fun day out.
Around Cabarete, if you like trekking, walk through the lush Damajagua jungle and take a dip in a breath-taking waterfall to refresh and recharge, enjoying nature, listening to the birds singing. A popular activity there is to hike to the top of the highest waterfall and just jump and swim down from waterfall to waterfall. Make sure you go with a guide and pack a dry bag to keep your belongings dry. There are 27 waterfalls in total, most tours only take you through 7, as the 27 are only for really fit and highly motivated people.
Another must-do in Cabarete is taking a coffee farm tour, head to the Cabarete Coffee Company to learn the history of coffee, how it's made, and visit multiple coffee farms where you'll get to roast, grind, and brew your own cup.
Last but not least, go island hopping to Paradise Island and Montecristi National Park to see lagoons, mangroves, pristine water, virgin beaches, and colorful fishes.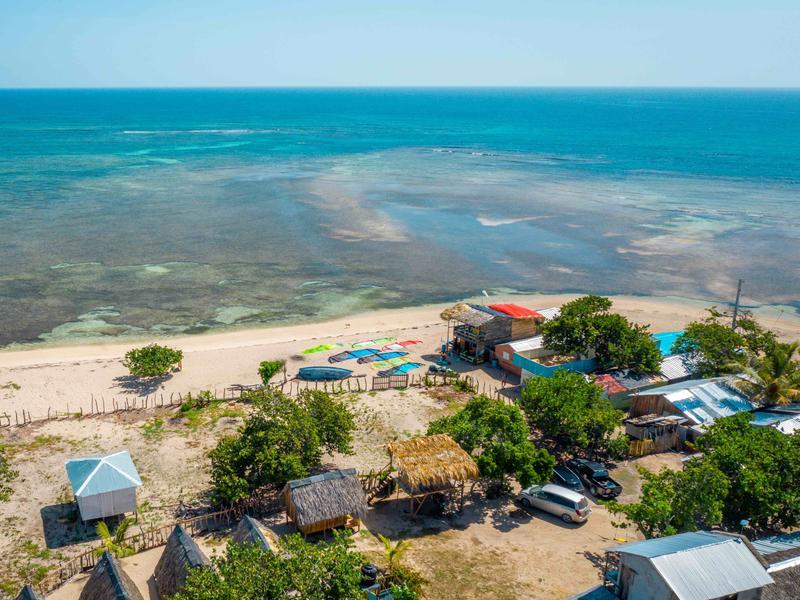 BUEN HOMBRE
Located on the north coast of the Dominican Republic, close to the border with Haiti, Buen Hombre is a remote beach popular amongst kitesurfers looking for an off-beat adventure. With a year-round 25 to 35 knots wind, it's a great alternative to Cabarete and Las Terrenas if there's no wind there or if you visit during the off-season.
This kitesurfing spot is for advanced riders only as the water is really shallow, there's reef everywhere, and the waves and currents are pretty strong on this side of the Atlantic.
Playa Buen Hombre is a tiny fishermen village and is off the main tourist path. There are a few restaurants where you can sample fresh seafood and fish but there's no hotel. It's a 3-hour drive from Cabarete, you can do a day trip or bring camping gear and spend the night on the beach. There are a couple of accommodation options in the nearest town, Montecristi.
If you like wild kitesurf adventures, sleeping on the beach with a tent, this place is for you.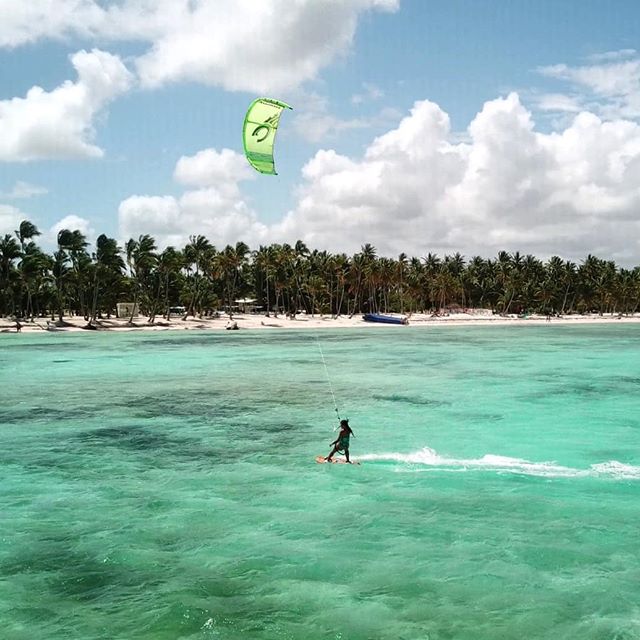 PUNTA CANA
Punta Cana is not per se a kitesurf destination, you might be able to kitesurf if you are lucky and are there between November and December. Then you can catch some wind created by the winter depressions. You will find slightly more wind going up around Uvero Alto. You can also check out the wake park located downtown, 15 minutes from the airport.
If you are planning to stay in Punta Cana and want to learn to kitesurf or build on your skills, you should organize either a day trip to Las Terrenas, the closest kitesurfing spot from Punta Cana, or plan to spend a few days there.
Kitesurfing spots in Punta Cana:
Playa Blanca: side shore wind, shallow water, reefy, expert level, beach tax, parking, restaurant, hotels.
Cabeza de Toro: side shore wind, shallow water, all level, no parking, hotels.
Uvero Alto: side shore wind, shallow water, all level, no parking.