KITESURF SPOTS Dominican Republic
one of the biggest island of the caribbean count some of the best and most beautiful kitesurfing spots with amazing wind conditions from december to september.
All the spots are very easy to access by a normal car with clean road for a perfect kitesurf session.The further north of the island you go, the stronger is the wind.From Punta Cana to Cabarete, it's 6 hours driving and please avoid to take the road by night !
LAS TERRENAS
The best wind you will find in Dominican Republic is located in Las Terrenas because between 15 – 20 knots; perfect to learn kitesurf from the very beginning in total safely without fear. Advanced riders can also improve a lot trying new tricks or discovering hydrofoil in smooth conditions. It's a thermal wind super steady  starting from 1 pm to 6 pm.
El Portillo : side shore wind, flat water, all level, hydrofoil, downwind, access from the main road parking in the bush just before the all inclusive hotel Bahia Principe ( front of the "tortuga" blue sign ), 45 minutes from the city center, 5 minutes walking to the beach from the 5 stars resort Gran Bahia Principe El Portillo.
Punta Popy : side on-shore wind, bit wavy, intermediate level, hydrofoil, downwind, access  from the main road parking, restaurants, bars and small hotels.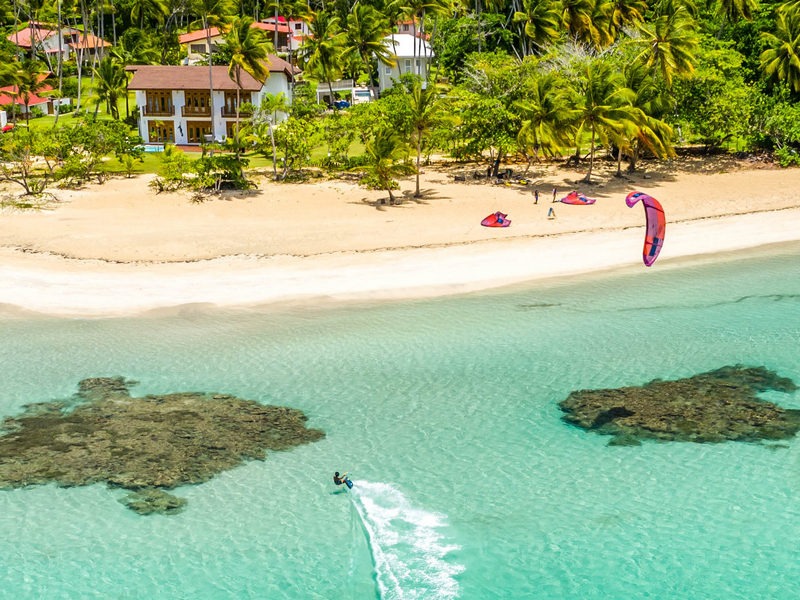 CABARETE
This is the best kitesurf spot for wave riding in Dominican Republic with an amazing downwind to Encuentro beach where you can surf on the morning glassy waves 3-6 foot. The wind blow between 20 – 25 knots  from mid day to 6 pm. Beginners riders will be in trouble because too many kites in the air with a big shore break !
La Boca river

: on shore wind, flat water, expert level, downwind, no parking, 15 minutes from the city center, no hotels around.
Bozo beach : side shore wind, super chopy beach break, all level, hydrofoil, downwind, wave riding close to the reef, parking in the city, located in the heart of the village, hotels, restaurants and bars.

Kite beach :

side shore wind, intermediate/ expert level, reefy, hydrofoil, downwind, parking, hotels, restaurants.
BUEN HOMBRE
This spot is the only solution if you cannot find wind in Las Terrenas and Cabarete because it's windy almost all year long around 25 – 35 knots. Close to the border with Haiti, you need 3 hours by car from Cabarete. Only for expert riders with super shallow water and reef everywhere !  If you like wild kitesurf adventures sleeping on the beach with a tent, this place is made for you.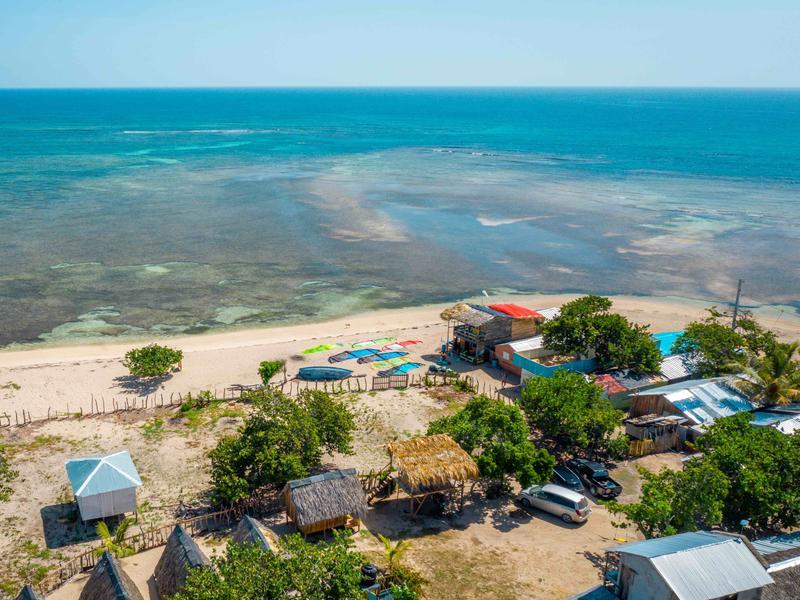 PUNTA CANA
It's not a kitesurf destination !!!  If you have some chance to come around November and December, you can catch some wind created by the winter depressions. You will have slighly  more wind going up around Uvero Alto. The best to do is the wake park located downtown 15 minutes from the airport.
Playa blanca :

side shore wind, shallow water, reefy, expert level, beach tax, parking, restaurant, hotels.

Cabeza de Toro :

side shore wind, shallow water, all level, no parking, hotels

Uvero Alto :

side shore wind, shallow water, all level, no parking