Take a break from kitesurfing and enjoy some of the best attractions and natural wonders Las Terrenas and Samana have to offer. Explore virgin beaches, sail away to meet the great humpback whales, or zipline through the jungle, these are just some of the many excursions you can go on near Las Terrenas.
There are plenty of things to do in Las Terrenas and around for when you're not on your kite. Discover our selection of tours and excursions from Las Terrenas, exploring the Samana Peninsula, and our recommendations for the best places to visit and things to do in Las Terrenas.
Las Terrenas is the perfect vacation spot, it features some of the best beaches in the country, incredible scenery, and a plethora of things to keep you busy. It's great for families, couples, group of friends, or solo travelers, in Las Terrenas you'll find something to do for everyone.
From water activities and lounging on the beach to jungle excursions and cultural activities, here are the top tours in Samana and the best things to do in Las Terrenas:
Half-day excursions and tours in Samana

KiteWorld is more than a kitesurfing school, we also offer private tours and excursions around Las Terrenas. We are ranked the #2 tour company in Las Terrenas on TripAdvisor. Dedicated to bringing to our customers the best experience, on the water, but also when you are not kiteboarding, we can organize half-trips for when the wind is not optimal for kiteboarding, on rest days, or for people who don't kitesurf.
Most of the tours you can take from Las Terrenas are half-day trips, but we can arrange for full-day tours too. Don't hesitate to
ask us
!
1 – Los Haitises National Park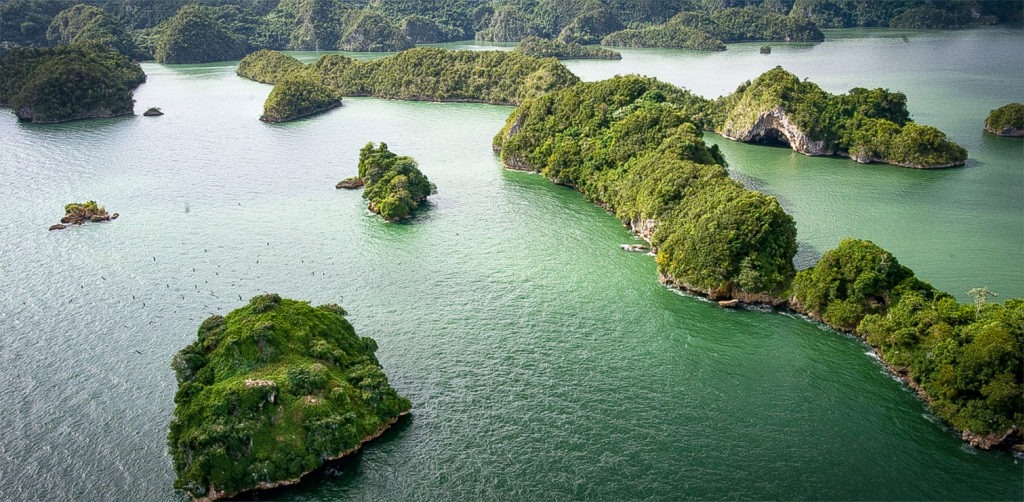 Los Haitises National Park spreads over 2000 miles of virgin rainforest, mangroves, and paradise-like beaches and is home to about 230 bird species, many endemic to the Dominican Republic with a few you'll only see in Los Haitises. If you are lucky you might spot a few of them, as well as whales, dolphins, and manatees.
The park is also famous for its caves where you'll find spectacular Taino pictograms and petroglyphs. Many artifacts have been found there, some dating as far back as the Preceramic Era (5500 to 3500 BC).
The landscape there is also spectacular with its hills and hillocks rising 40 meters off the ground sparkled around the park. It's definitely one of the best excursions in Samana.
Learn more about visiting Los Haitises National Park.    
2 – El Limon waterfall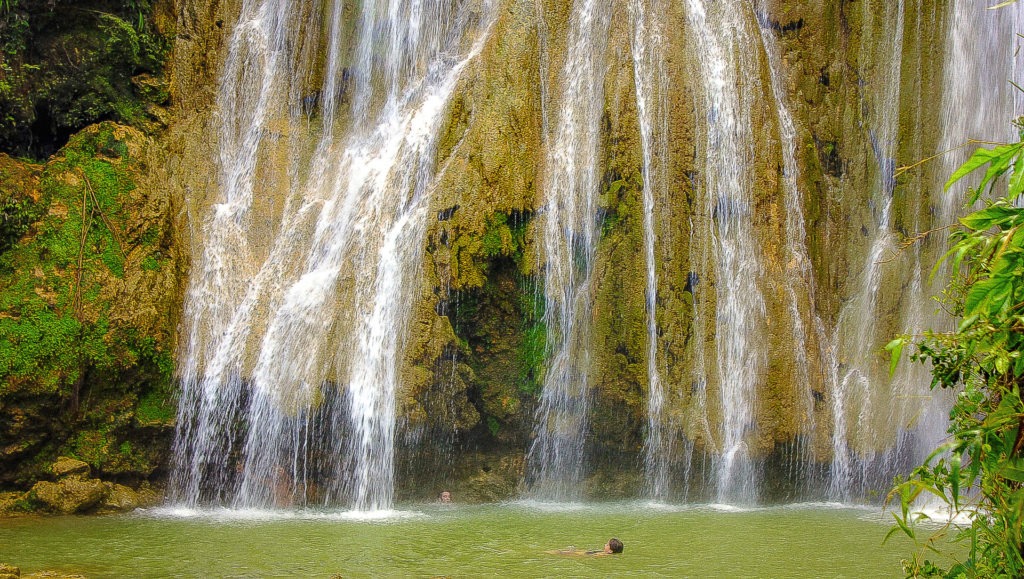 Take a break from the beach and take an easy hike through the jungle to reach this beautiful waterfall. Pass through lush landscapes and breath-taking viewpoints on this 30-minute trek where you'll be rewarded by a refreshing dip in the 40-meter high waterfall of El Limon.
Learn more about visiting El Limon Waterfall.
3 – Whales Watching Tour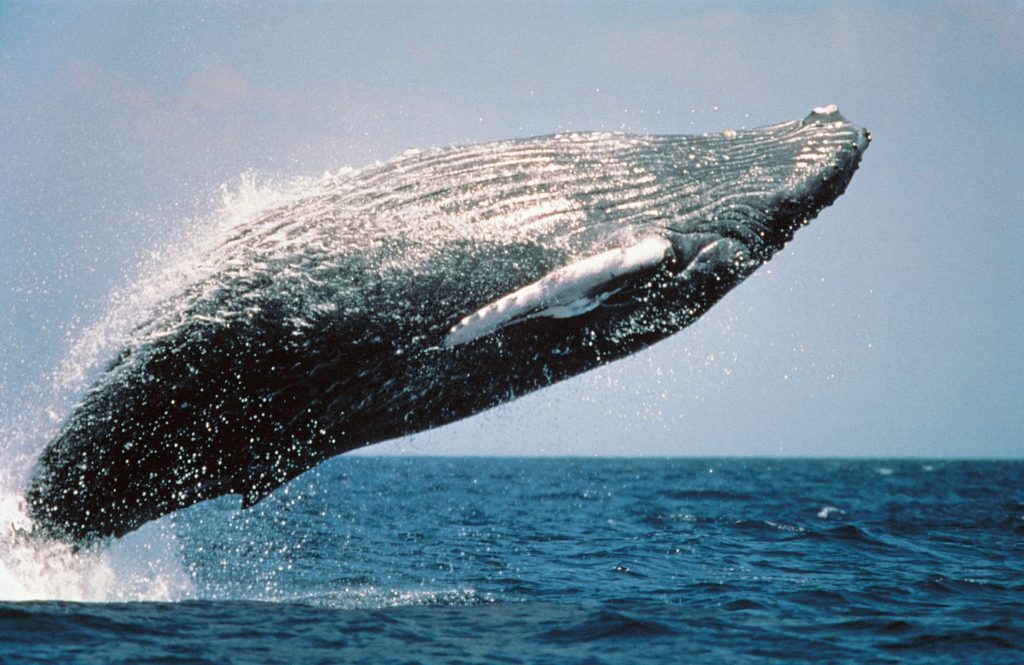 Every year, hundreds of humpback whales flock to Samana's bay from the northern part of the Atlantic ocean where they come for the breeding season from mid-January to mid-March. Watch them as they swim by, listening to the males "singing" to attract females. Meeting with these majestic giants is a one-in-a-lifetime experience you shouldn't miss if you are in Las Terrenas at the right time.
Read more about our whale watching excursions.
4 – Ziplining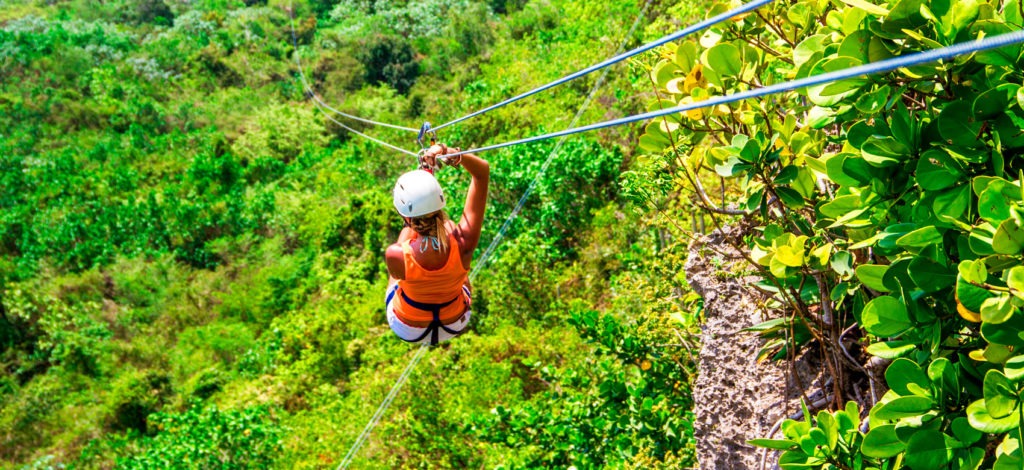 For adrenaline junkies, explore Samana's rainforest 400-ft up the air in the lengthiest zip line park in the Caribbean! If you are ready for an adventure, this is the excursion for you. With over 1.3 miles of ziplines, discover Samana's lush jungle from above.
Learn more about ziplining in Las Terrenas.
5 – ATV Coffee Tour Trail
Another great excursion to go on near Las Terrenas, the ATV Coffee Tour will take you through the jungle to local villages and farms. Discover the Dominican Republic's rural lifestyle and learn about Dominican culture while exploring Samana's countryside.
Discover our ATV Coffee Tour.
6 – Horseback Riding Excursion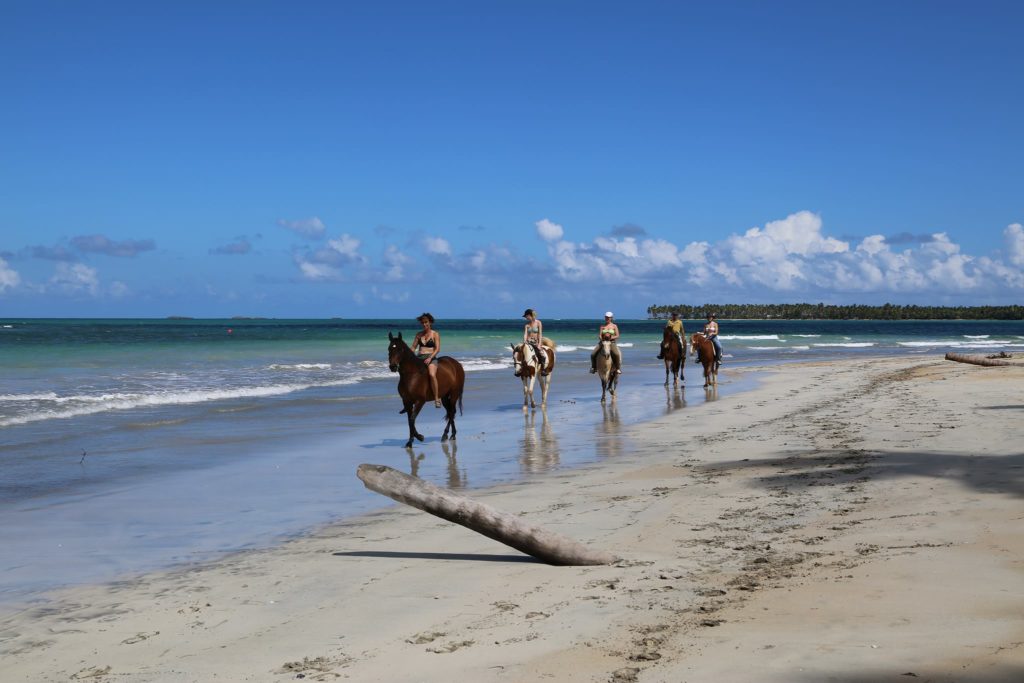 Explore Las Terrenas and its surroundings on horseback, taking the time to gaze at incredible landscapes and natural landmarks. We can create custom itineraries to fit what you want to visit and will adapt to your level, from beginner to advanced riders.
Learn more about horseback riding in Las Terrenas.
7 – Boat tour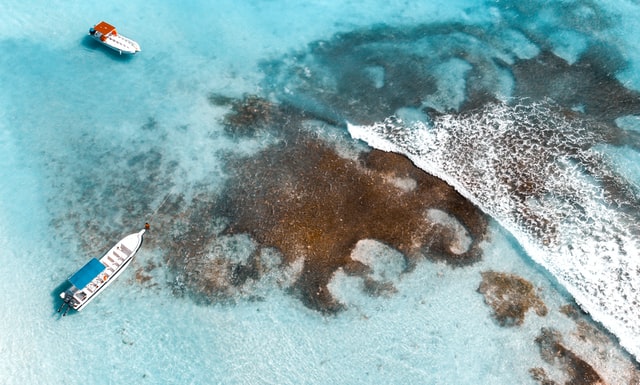 Charter a boat for the day and discover secluded beaches, snorkel above beautiful reefs, go on a fishing trip, or do a combination of the three! The coastline is spectacular with many beaches that are only accessible by boat. Snorkeling is also a must-do while in Las Terrenas, some of the reefs are really well preserved and you'll see many colorful fishes and turtles.
Secret spots to discover in Samana
8 – Dudu Lagoon
A unique tour in Samana where you can go from one natural pool to another by scuba diving. It is located on the north coast of the Dominican Republic, halfway between Las Terrenas and Cabarete. This magical place is 32m deep surrounded by a dense forest made up of a multitude of fruit trees where stalactites and stalagmites have formed for centuries. You can admire pre-Columbian art in the Taino caves; the first Indian natives of the Dominican Republic. In addition to caving, the Dudu lagoon is known for its 10m high zip line. An emotional adventure awaits you with restaurant service and easy access parking.
9 – Paraiso Cano Hondo Eco-Lodge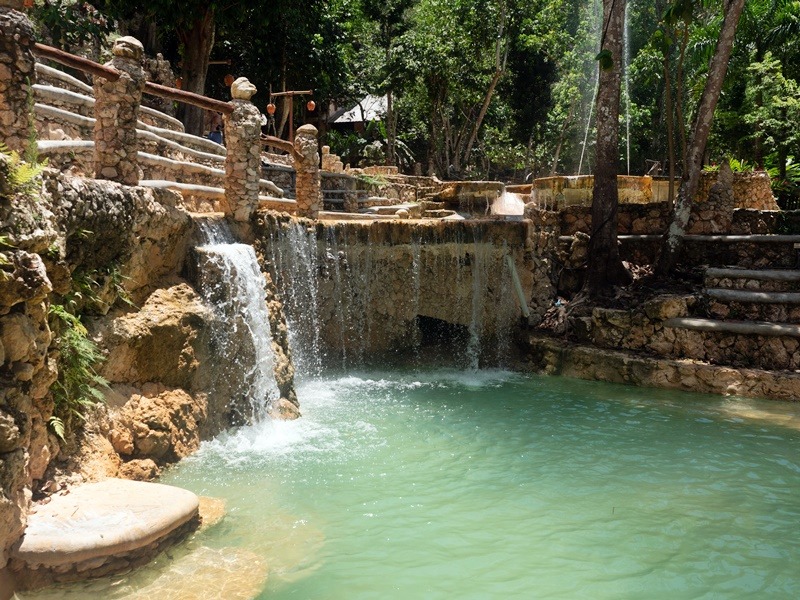 Located in the heart of the Haitises National Park, on the east coast of the Dominican Republic, nature invites you to discover an incredible hotel sculpted in a waterfall made up of natural swimming pools with crystal clear water. Come and refresh your body and mind in this place, lost in the middle of nature, spending a few hours (or days!) surrounded by the beautiful song of birds and the sound of the waterfalls.
The hotel offers 28 rooms with rustic decoration carved in the rock with a breathtaking view over the bay of Samana. You will live an extraordinary experience far from the traditional tourist paths, encountering the true essence of life!
10 – The Round Mountain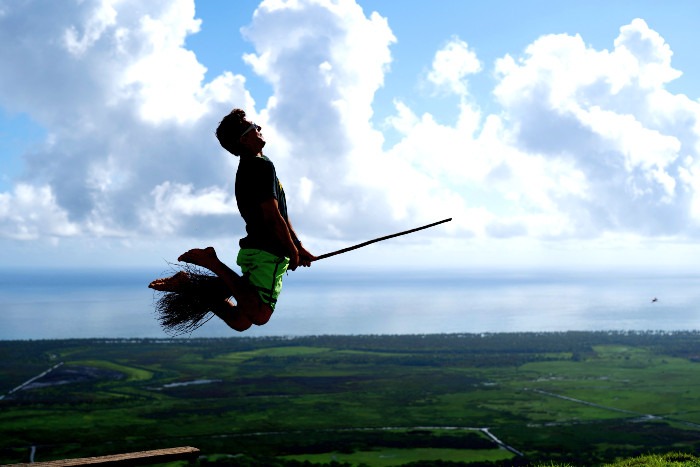 An unforgettable place located on a 300-meter high hill, on the east coast of the Dominican Republic offering a 360-degree panoramic view of the Atlantic Ocean where the reflection of the lagoons combines with the sunrise, the green of the mountains, the clean air, and the peace and quiet. This is where you will achieve The dream photo for your social networks by flying like Harry Potter on his magic broomstick in the middle of Samana Bay.
11 – Cabo Frio River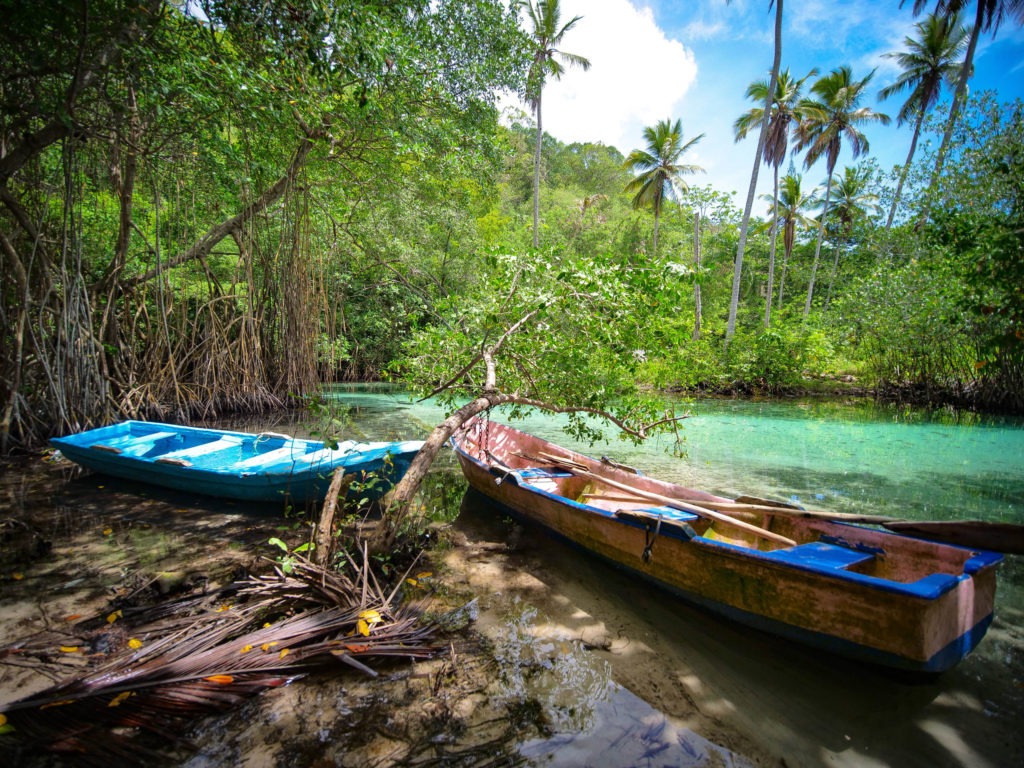 A small natural oasis surrounded by a mangrove swamp where you will take a spectacular boat ride watching the great diversity of flora and fauna. It flows into the sea creating a white sand beach where you can swim in the saltwater of the warm sea as well as in the refreshing river. Do not hesitate to sample a lobster cooked in a traditional stone oven with your feet in the sand while sipping on a pina colada.
12. – Emitaño beach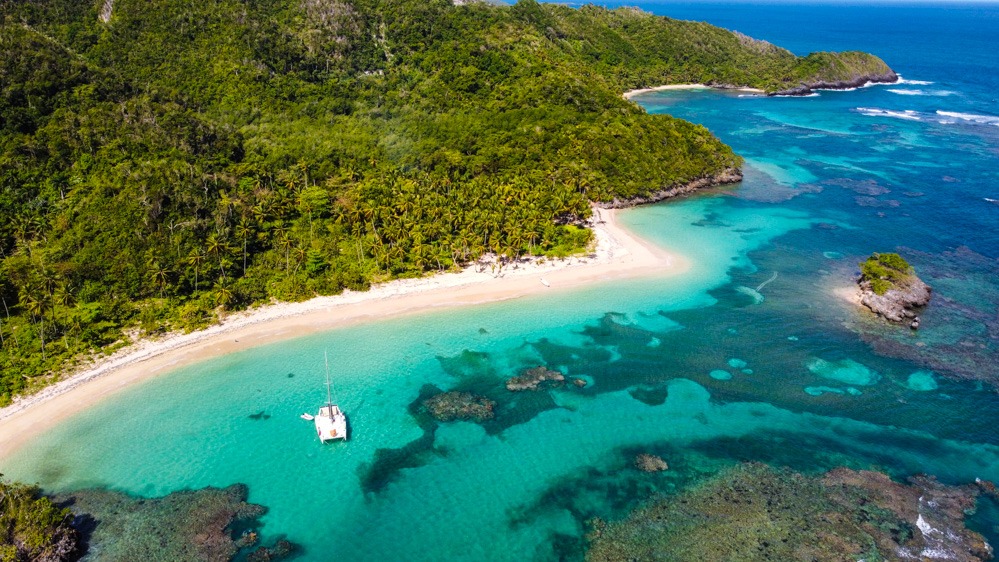 Located in the village of El Limon in the Dominican Republic, this 400-meter long stretch of beach is surrounded by many reefs accessible only by boat or on foot. A hike from another world, in close contact with nature, trekking through dense vegetation surrounded by superb mountain views and the ocean.
The beach was named after a fascinating story: a French pirate named Juan l'Ermite who once landed here, totally isolated from the rest of the world. He was discovered after 22 years of complete solitude by his traveling companions who believed him dead.
Come and discover a little of what this well-known pirate must have gone through in this earthly paradise with crystal clear waters looking like a natural swimming pool, surrounded by vertiginous cliffs.
Activities in Las Terrenas and Samana
13 – Diving
There are a couple of great diving spots (wrecks, walls, caverns, and pinnacles) near Las Terrenas and a few diving schools where you can learn diving, get certified, or go on a diving trip.
14- Kitesurfing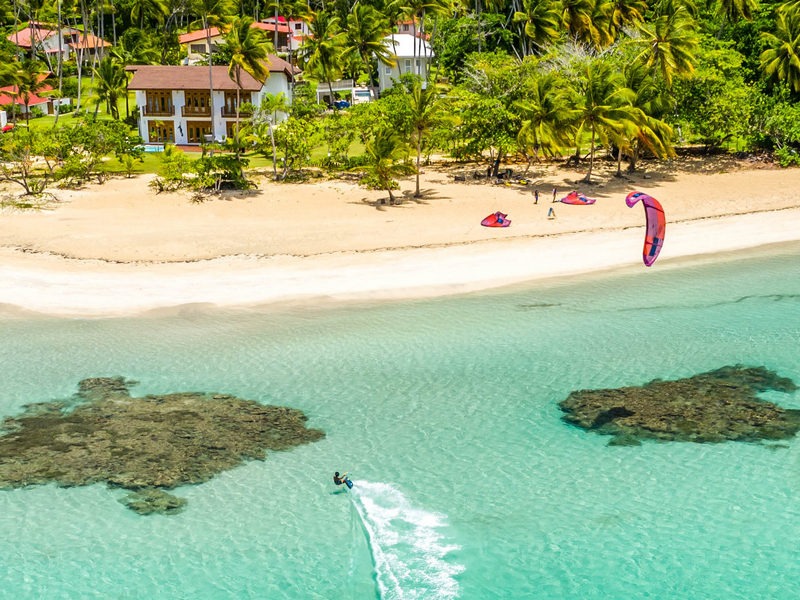 Las Terrenas is one of the top kitesurfing spots in the Dominican Republic especially if you are looking for an uncrowded spot. It's the perfect place for beginners as wind and water conditions are optimal and it has fewer kites in the air compared to Cabarete, so it's easier to learn.
It's also a good spot to learn new tricks or try hydrofoil.
Learn more about our kitesurfing school and contact us for more info or to book your next kitesurfing session! For kitesurfing addicts we also offer kitesurfing cruise – a full week on a catamaran, all inclusive, with daily kiteboarding sessions in incredible spots.
15 – Surfing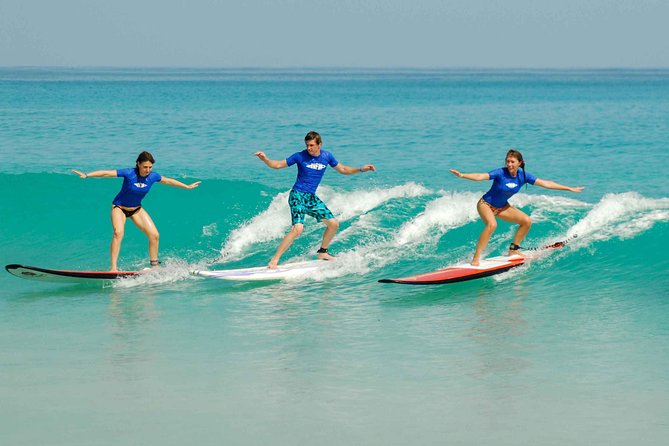 Rent a surfboard for a few hours or take lessons to learn or build new skills. There are a couple of nice surfing spots in and around Las Terrenas, Playa Bonita is one of the best beaches for surfing, find us at Turtle Lagoon Beach for lessons and equipment rental.
You can surf year-round in Las Terrenas. From May to August you'll find smaller waves and from September and April larger waves.
16 – Kayaking and Paddle boarding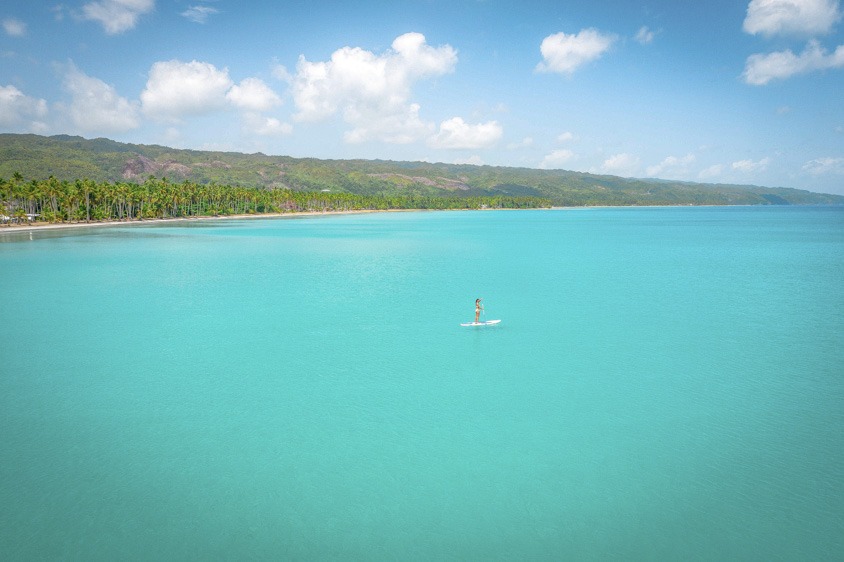 Spend some time on the water, exercising, and exploring the coastline, with a kayak or paddle trip. It's a great activity the whole family can do as it's not that intense and it's a lot of fun. You will see corals, fishes, and if you are lucky some turtles while getting to some beautiful secluded beaches.
In many beaches around Las Terrenas, you'll find calm water and soft winds making it perfect for kayaking or going on a paddle trip.
17 – Learn Bachata
The Dominican Republic is where Bachata originated from, if you like dancing you should definitely take a bachata class (or two!) while you are in Las Terrenas. Learn this fabulous dance and join the village's sparkling nightlife, dancing the night away.
The Dominican Republic lives to the rhythm of music constantly: it is the cradle of Bachata where singers like Romeo Santos of the Aventura group have become famous throughout the world. Every year in Las Terrenas, you'll find the largest Latin Dance Festival in the Caribbean over 2 intensive weeks where you can take lessons with teachers from all backgrounds or attend daily concerts. Many dance schools liven up your evenings every day of the week with the famous taxi dancers which will not leave you sitting on your chair!
About us – Tour operator in Las Terrenas
The excursions we offer are very special because we work closely with Dominicans, locals to the places we visit. We try to involve locals and locals companies as much as possible and work closely with communities to develop a more sustainable type of tourism, that benefits all and is respectful of the environment.
We organize private tours, in small groups, to little-known places so you can enjoy nature in peace, without being surrounded by hundreds of other tourists. For more popular destinations, we try to organize the tours in order to get there before anyone else.
Escape the crowds from the big tour companies with hundreds of tourists, waiting in line to take pictures of the Dominican Republic's natural beauty. We start the tours in a different way, before anybody else in order to arrive first on site like at El Limon waterfall so you can enjoy the refreshing natural jacuzzi all by yourself and get the perfect picture.
For whale watching, a local fisherman will drive you directly to a secret spot, so you can avoid being surrounded by tons of other boats, and witness the amazing show of the mother teaching her baby how to swim and jump. Same at Los Haitises National Park, a local will bring you off the normal tourist path, along hidden historical places and natural wonders.
Our goal is to promote local eco-tourism, being mindful of the Dominican Republic environment, while giving you a taste of the Dominican life.