KITE WORLD – KITEBOARDING SCHOOL IN THE DOMINICAN REPUBLIC
Welcome to our kite school in Las Terrenas, a hidden gem in northern Dominican Republic with spectacular beaches and stunning scenery. Learn to kite with us or build on your skills. From beginners to advanced riders, our certified instructors are here to help you reach your goals and have a blast!
We can also help plan your vacation from A to Z, with attractive hotel and villa rentals, transportation, excursions, equipment rental, and anything else you might need so you can relax and have a stress-free vacation in the Dominican Republic.
Our kiteboarding school  is dedicated to bringing you the best experience possible while sharing our passion for kitesurfing in a friendly atmosphere.
DOMINICAN REPUBLIC KITEBOARDING
KITE SCHOOL IN LAS TERRENAS:
Flatwater and shallow lagoon, ideal for all levels.
Next to the all-inclusive resort Gran Bahia Principe El Portillo.
Consistant trade winds and warm water all year-round.
Secret spots to escape the crowds.
Many half-day tour options for non-kiters or light wind days.
No seaweed !
2-hour drive from the Dominican Republic's world-renowned kite spot: Cabarete.
5 STAR REVIEWS ON TRIP ADVISOR

Great kite school, great teacher, great guy Las terrenas is a great spot for kitesurfing, and Vince from kiteworld is the person to learn from. Vince is a great guy with lots of experience. Very easy to communicate, and there are wisdoms he told/ taught me that i haven't heard before, and made my kiting experience a lot more fun, and safe. He has a great group of guys with him, and they watch you all the time, and make corrections/ adjustments on the spot. It is a very friendly, laid back location, truly a surfer's paradise. I was there for 10 days during Christmas. Took private lessons from him. And i truly graduated from beginner to intermediate within a week. Going back in March for two weeks now to jump to advance level. We love the area so much that we may be moving there, Vince went above and beyond to help us locate properties, as well as giving us eating recommendations at his own time and expense.

Accueil chaleureux et disponibilité au top Vincent de Kiteworld a été d'une précieuse aide quand nous avons souhaité réserver un séjour à la dernière minute. Il nous a apporté plein de conseils sur la République dominicaine et s'est occupé lui-même de nous trouver un hébergement. Malheureusement, les dernières mesures sanitaires nous ont obligé à reporter notre voyage. Mais la réactivité de Vincent et sa disponibilité ont été irréprochables. En espérant pouvoir faire sa connaisance dans un futur très proche, nous recommandons à quiconque souhaiterait partir faire du kitesurf en République dominicaine de prendre contact avec Kiteworld, à Las Terrenas. Bonne continuation à Kite world et encore merci pour tout.

Highly recommended Excellent kite school with perfect site in Las Terrenas (breathtaking beaches, not crowded, wild, good winds), flexible learning modalities, instructors are very nice and professional and speak several languages incl. Spanish, French, English.
When learning is easy and fun! During my 25 day stay in Las Terrenas, I was looking for a kitesurfing school. I landed on Kiteworld not long after and got in touch with Vincent the owner. He was extremely responsive and professional. Within just a couple of hours of coaching from 2 of his instructors as well as himself, I was already quite comfortable in the water with the kite. Kiteworld gives its classes at Playa Punta Popy, an amazing and safe beach for beginners. I will return without a doubt when I'm back in December!! Thank you!

Olek_z_przyszlosci
2020-10-21
The best kiteschool in Las Terrenas Las Terrenas is a top of the top spots in the world and I'm telling that throughout 16 years of kitesurfing. Flat water, consistent wind and breathtaking sceneries. Vincent is a super friendly, professional teacher! Apart from kitesurfing together, he showd us surroundings, local restaurants and all the places worth visiting. I can truly recommend Vincent and his shool Kiteworld!🤙 P.S. If you consider Cabarete or Las Terrenas I would say 100% for Las Terrenas!

Great teacher!! Vincent is the best teacher! Taught me a dark slide in an hour! Super patient, and you can tell he loves the sport! He takes a really good care of his clients. Always happy to help, knows a lot about the area and can even organise some trips for you! Definitely the school to choose when in Las Terrenas!!

If you want to learn to kitesurf then this is best place I had taken kitesurfing lessons before while on holiday in Venezuela and despite many hours of lessons never made it to the waterstart. Within 6hrs of lessons with Vincent I was up and going upwind, as he has the best combination of the most important things for a beginner: - Excellent and patient teaching - Wonderful flat, shallow water spot with consistent steady wind - Not too crowded, so you feel safe - Best equipment - his big board is a godsend for getting you up and plaining! If you are serious about wanting to learn to Kitesurf independently then I would highly recommend Vincent and Las Terrenas. Give yourself a week and get ready to be hooked on this amazing sport!

Rien que du fun !!!! Superbe expérience de kite !!! Pour la bileuse que je suis ...Vincent est Le Prof qui te donne confiance en toi !!!! Grâce à lui, je n'abandonnerai pas et ce n'était vraiment pas gagné Activité en plus partagée avec les enfants Le plaisir était au rendez-vous !!! Plage paradisiaque, le rêve sur terre ...

Un club de Kite mais pas que... Vincent et sont équipe sont au top. Des cours adaptés pour adultes et enfants, un spot de toute beauté pour tout niveaux de kite. Mais au delà du kite, Vincent sait s'occuper des ses clients/hôtes d'une façon magique. Découverte des activités possible autour de l'as Terrenas, choix d'alternative si la journée n'est pas ventée, bref, L ADRESSE INCONTOURNABLE si vous allez à Las Terrenas en famille et que vous aimez l'aventure et le sport

Kitesurfing Very nice kitesurfing sport and well attended by a professional team. Vincent and his team are top notch and friendly. Many thanks again for the great équipement and service. We will be back for sure. Stephan and his sons Ugo and Arthur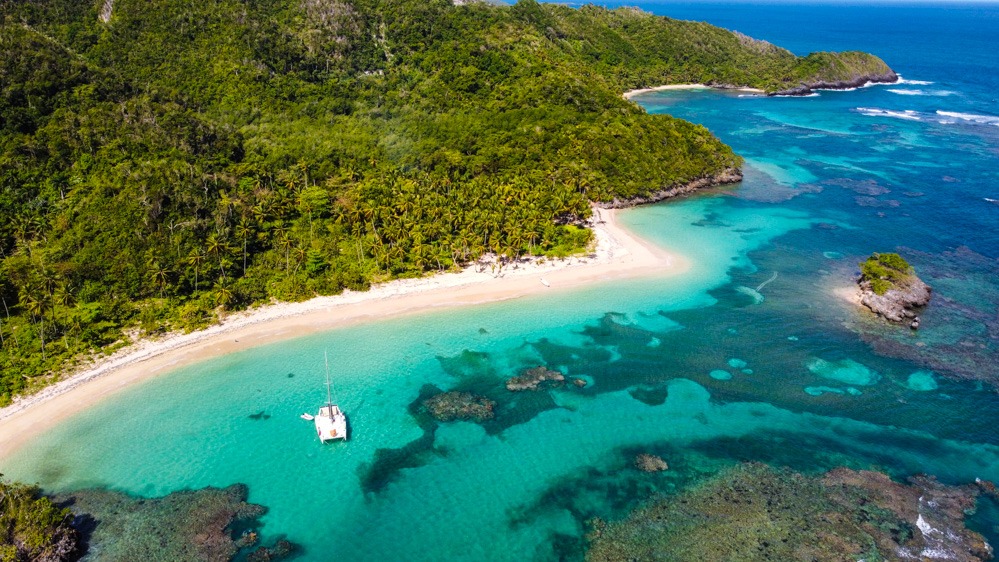 DISCOVER OUR KITE CRUISES
For the first time in the Dominican Republic!
If you are looking for a unique way to spend your next vacation, look no further! Stay on our catamaran and we'll take you cruising to the best kitesurfing spots in the country for an experience you won't forget.
FREQUENTLY ASKED QUESTIONS ABOUT KITESURFING IN LAS TERRENAS AND THE DOMINICAN REPUBLIC:
HOW LONG WILL IT TAKE TO LEARN KITESURFING ?
You will need a minimum of 3 hours of lessons to start.  You will master 3 essential skills: piloting the kite on land, body dragging in deep water without the board, and water-start. It is recommended to do take the 6-hour package across 3 days so that you can become an independent kiteboarder with the kite control needed for every situation.
WHAT IS THE BEST SEASON TO DO KITEBOARDING IN THE DOMINICAN REPUBLIC ?
The Dominican Republic has wind almost all year round.  The best months are February, March, April, July, and August. The best time for surfing in the Dominican Republic is from November until April along the North shore of the island.
WHAT'S THE CLOSEST AIRPORT TO LAS TERRENAS ?
20 minutes: Samana El Catey ( AZS ) only flights from Toronto ( YYZ ), Montreal ( YUL ), Ottawa ( YOW ), Frankfurt ( FRA )
2 hours: Santo Domingo Las Americas ( SDQ ) with many flights from the United States ( JETBLUE, AMERICAN AIRLINES, SPIRIT, DELTA ) and Europe ( AIR FRANCE, AIR CARAIBES, IBERIA, TUI FLY )
5 hours: Punta Cana International Airport ( PUJ ) with many connections in the world.
PUBLIC BUS TRANSFERS FROM AIRPORTS TO LAS TERRENAS ?
Santo Domingo: take 10 min taxi from Las America's airport to the bus stop « Parada Samana » company name « Transporte Las Terrenas »
Timetable : 8:50 am – 9:50 am – 11:20 am – 2 pm – 3:20 pm – 6:20 pm
Punta Cana: you'll need to take 2 buses in total! – take 15 min taxi from Punta Cana airport to the bus stop «Cruce de Veron» company name « Espresso Bavaro»
Timetable: 7 am – 9 am – 11 am – 1 pm – 3 pm – 4 pm (always fully booked, buy your ticket 30 min before) STOP before Santo Domingo at the bus station «Parada Samana» – company name «Transporte Las Terrenas»
Timetable: 8:50 am – 9:50 am – 11:20 am – 2 pm – 3:20 pm – 6:20 pm
WHAT ARE THE DIFFERENCES BETWEEN KITESURFING IN CABARETE AND LAS TERRENAS ?
Cabarete: 200 kites in the air; 15 kite schools; choppy and big shore break difficult for students; strong winds between 20 – 30 knots; perfect for waves riders; not many flight connections from Puerto Plata airport.
Las Terrenas: Uncrowded spot;  flat and shallow crystal clear water;  perfect for beginners, freestyle coaching and hydrofoil lessons;  many flight options from Santo Domingo airport. There are also many other things to do such as whale watching, visit El Limon Waterfall, or Los Haitises national park. Just ask for details.
WHEN I LOOK AT WINDGURU WIND STATISTICS, I DON'T SEE GOOD WIND. WHY?
No worries the wind speed is always between 15 & 20 knots and super steady like a fan! Unfortunately, Windguru doesn't take into account the local thermal wind which reinforces the steady trade winds «Alizes».  It is best to add 5 knots to the forecast.
IF I STAY FOR ONE WEEK, WHAT IS NEXT AFTER THE 3 DAYS LESSONS PACKAGE ?
Based on your level, we will adapt the training program with either more hours of lessons or rental under supervision.  We will ensure that you maximize your time on the water having fun!
IS THE DOMINICAN REPUBLIC SAFE?
Yes! Don't forget that the principal economy of the island has been tourism for the last 20 years.  The Dominican people will take the best care of you and make sure you spread the word about this beautiful place.
DOMINICAN REPUBLIC VACCINATIONS AND MEDICAL PRESCRIPTIONS ?
You need nothing other than the common travel vaccinations! You must be careful with the sun and make sure you have adequate protective clothing: rashguard, hat, sunglasses, sunblock …. The mosquitos tend to come out at the beginning/ending of the day.
WHATS IS THE CURRENCY IN THE DOMINICAN REPUBLIC?
The national currency is the Dominican pesos ( DOP ) but you can exchange US Dollars & Euros everywhere (be warned airport rates are the worst ! ). Credit cards are not accepted in most small Dominican shops,  but are welcome in hotels, and many restaurant & activities. ATM fees are normally  $5 for each withdraw at the machine in addition to your bank charges!
DO I NEED A CAR IN LAS TERRENAS ?
The answer is NO! It's a small village where you are 30 minutes walking distance to anything.  If you want to discover the uncrowded beaches nearby, then it is better to rent a scooter or an ATV.
WHAT ADDITIONAL EQUIPMENT DO I NEED TO KITESURF IN LAS TERRENAS ?
No wetsuit, no shoes only your board shorts! During winter you'll need a 14 m & 12 m kite quiver and in the summertime a 12m & 9 m kite quiver. It is possible to hydrofoil in certain areas so ask us for more information.
KITESURFING IN THE DOMINICAN REPUBLIC

LAS TERRENAS – WHERE A NEW SPORT WAS BORN
By 1984, the French brothers Bruno and Dominique Legaignoux had patented the first inflatable kite (LEI). That patent is still in use today by all the kiteboarding manufacturers.
In 1995, they created and launched the first kite brand WIPIKA (Wind Powered Inflatable Kite Aircraft). This signaled the birth of kitesurfing as a sport as we know it today.
In 1999 Bruno decided to move to the Dominican Republic, and Las Terrenas proved to be the perfect place for his research and development. Having consistent wind of no more than 25 knots, powered each day by the thermal wind, it was just like having a fan! Combined with the side shore wind direction and its many safe bays offering crystal clear shallow water, he was able to work on a number of ideas for the future of kitesurfing which were far ahead of their time.
The Dominican kids from Las Terrenas were the first on the planet to test Bruno's new kite prototypes, such as the Bow shape and later 4 lines kites. Two of them, who started at 10, were soon ranking in the top 10 of the world's best kitesurfers and were sponsored by WIPIKA (which later became  TAKOON).
Las Terrenas is the place in the Dominican Republic where kiteboarding was born, and so is a perfect place for you to start or build on your kitesurfing journey.
KITEBOARDING IN THE DOMINICAN REPUBLIC

CABARETE – WHERE KITESURFING LEGENDS WERE BORN
According to legend, Canadian windsurfer Jean Laporte came to Cabarete in the 1980s and was quite literally blown away by the consistent and warm trade winds.
The windsurfing community in Cabarete exploded soon after and began to appear in the most popular windsurfing magazines of the time. Cabarete gained attention as one of the world's premier spots for windsurfing and eventually kiteboarding.
Cabarete has hosted many prestigious kitesurfing competitions. Many famous freestyle kiteboarding names like Luciano Gonzalez, Posito Martinez, Ariel, and Adeuri Corniel started out here. They also were recently in the Olympic games for the first time.
Two kite brands were created here in the Dominican Republic, E.H. & Star kites.
"In 2003, when I first discovered kitesurfing, my dream was to go to Cabarete and meet all of these legends of this new sport « kitesurfing ».  This changed my life and fuels my passion for teaching and sharing this great sport with all the people I teach kitesurfing to."

– Vincent, owner at KiteWorld