DOMINICAN REPUBLIC kiteboarding
kitesurf las terrenas
Flat water lagoon ideal for all levels front of the All Inclusive resort Gran Bahia Principe El Portillo.
Constant trade winds and warm water almost all year.
Secret spot escape the crowds.
Half day tours for no kiters or light wind days.
No sargassum seaweed !!!
2 hours driving from the Dominican Republic world famous kite spot Cabarete.
ranking N°2 TRIP ADVISOR in las terrenas
100% recommendation from my side.
i tryed hard an a lot to learn kitsurfing.
the beach and vincents team are very friendly and absolutely 100%pros

we come... read more back 🙂

Friedrich W


6/17/2019

Our stay in Dominican Republic was awesome. A friend and I stayed in Las Terrenas for more than two weeks and could enjoy this amazing country, with incredible nature and... read more landscapes. Since Kitesurfing seems to be one of the most practiced sports in the country, we decided to try doing it. Vincent taught us and it was so much fun. Moreover I've now discovered this new sport and I hope I'll be able to keep practicing it. Both the town and the school Kite World are mandatory things to visit if you go to the Dominican Republic.

albaud22


7/25/2019

Very nice kitesurfing sport and well attended by a professional team. Vincent and his team are top notch and friendly. Many thanks again for the great équipement and service. We... read more will be back for sure. Stephan and his sons Ugo and Arthur

180stephana


2/23/2020

Me and my 2 children took some Kite lesson for the first time with Vincent and his team, we had a blast!!
I am 52 and was sincerely a bit... read more scared to start kiting but, I must say, I am SOOOOOOO happy I did it. My two boys were also very excited to go everyday to Poppy Point. This location is so perfect, safe and warm!
As a mom, seeing your children forgetting their phone and their computer, it's a great feeling 🙂
Thanks Vincent, can't wait to be back!

sandydepouillon


6/19/2019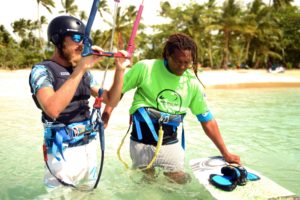 Beginners to advanced clinic ( foil, freestyle )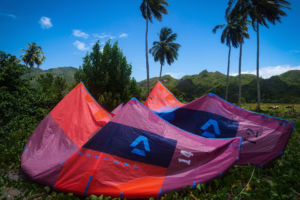 DUOTONE & ION one of the best quality brand from 2001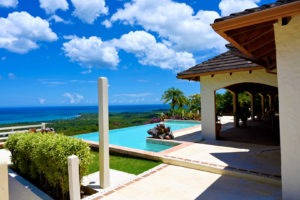 Hotels, resort or private villas right on the kite spots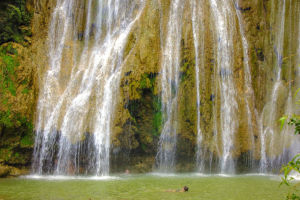 EXCURSIONS
Half day tours for the morning because the wind start at 1 pm
frequently asked questions about Kitesurfing in Las Terrenas
HOW MANY HOURS I NEED TO LEARN KITESURFING ?
You need minimum 3 hours lessons for just a discovery with 3 steps learning : pilot the kite on land, body drag in deep water without board and water start.
The best is to do the 6 hours package in 3 days in order to become independent with the kite control in every situations.
WHAT IS THE BEST SEASON TO VISIT DOMINICAN REPUBLIC ?
Dominican Republic has wind almost all year around from December until middle of September. The best months are February, March, April in winter and July, August in summer. The best season for surfing in Dominican Republic is from November until April in the North shore.
WHATS THE CLOSEST AIRPORT NEAR LAS TERRENAS ?
20 minutes : Samana El Catey ( AZS ) only flights from Toronto ( YYZ ), Montreal ( YUL ), Ottawa ( YOW ), Frankfurt ( FRA )
2 hours : Santo Domingo Las Americas ( SDQ ) with many flights from United States ( JETBLUE, AMERICAN AIRLINES, SPIRIT, DELTA ) and Europe ( AIR FRANCE, AIR CARAIBES, IBERIA, TUI FLY )
5 hours : Punta Cana International Airport ( PUJ ) with many connections in the world.
PUBLIC BUS TRANSFERTS FROM AIRPORTS TO LAS TERRENAS ?
Santo Domingo : take 1O min taxi from Las Americas airport to the bus stop « Parada Samana » compagnie name « Transporte Las Terrenas » schedule table : 8:50 am – 9:50 am – 11:20 am – 2 pm – 3:20 pm – 6:20 pm
Punta Cana : 2 buses in total !
– take 15 min taxi from Punta Cana airport to the bus stop «  Cruce de Veron » compagnie name «  Espresso Bavaro » schedule table : 7 am – 9 am – 11 am – 1 pm – 3 pm – 4 pm ( always full buy your ticket 30 min before ! ) STOP before Santo Domingo at the bus station «  Parada Samana »
– compagnie name « Transporte Las Terrenas » schedule table : 8:50 am – 9:50 am – 11:20 am – 2 pm – 3:20 pm – 6:20 pm
WHAT ARE THE DIFFERENCES BETWEEN KITESURFING IN CABARETE AND LAS TERRENAS ?
Caberete : 200 kites in the air, 15 kites school, choppy and big shore break difficult for students, stronger wind between 20 – 30 knots, perfect for waves riders, no many flight connections from Puerto Plata airport.
Las Terrenas : 3 kites school, uncrowned spot, flat water spot ideal for beginners, shallow crystal clear water, perfect for freestyle coaching and hydrofoil lessons, lot of flight choice from Santo Domingo airport, many extra kite activities ( whales watching, waterfall, Los Haitises national park … )
WHEN I LOOK AT WINDGURU WIND STATISTICS I DON'T SEE GOOD WIND. WHY?
No worries the wind speed is always between 15 & 20 knots super steady like a fan ! unfortunately Windguru doesn't take care about the local thermal wind who reenforce the trade wind « Alizes »; so please add 5 knots to the forecast.
I STAY ONE WEEK, WHAT IS NEXT AFTER THE 3 DAYS LESSONS PACKAGE ?
According to your level, we adapt your progression with more hours of lessons or rental under supervision in order to spend a lot to time on the water.
IS DOMINICAN REPUBLIC SAFE?
Yes! Don't forget that the principal economy of the island is based on tourism since 20 years so trust us the Dominican population will take care of you at the maximum to get the better tips !
DOMINICAN REPUBLIC VACCINATION AND MEDICAL PRESCRIPTIONS ?
Nothing more than the common vaccination ! You have to take care a lot about the sun with clothes protection ( rashgard, hat, sunglasses, sunblock … ) and the mosquito time at the beginning / ending of the day light.
WHATS IS THE CURRENCY IN DOMINICAN REPUBLIC?
The national devise is the Dominican pesos ( DOP ) but you can change it everywhere from Dollars & Euros ( airport rates are the worst ! ).
Credit card are not accepted in most of the Dominican shop but also in certain hotel, restaurant & activities.
ATM fees are 5 $ for each withdraw at the machine in addition to your bank taxes !
DO I NEED A CAR IN LAS TERRENAS ?
The answer is NO ! It's a small village with maximum 30 minutes walking distance and if you want to discover the uncrowned beaches around better to rent a scooter or quad.
WHAT ADDITIONAL EQUIPMENT I NEED FOR KITESURFING LAS TERRENAS ?
No wetsuit, no shoes only your board short ! During the winter you need 14 m & 12 m kite quiver and the summer time 12m & 9 m kite quiver.
Hydrofoil is possible in certain area ask us for more informations.
Kitesurf Las Terrenas
where a new sport was borned
By 1984, brothers Bruno Legaignoux and Dominique Legaignoux from France patented the first inflatable kite. They filed a patent which is still in use today for manufacturers of kiteboarding materials and develop the first kite brand WIPIKA that sign the birth of the sport kitesurfing
In 1999 Bruno decided to move and do Kitesurfing in Dominican Republic. Las Terrenas proved to be a perfect place for research and development out of sight. He had already a lot of ideas about the future of kitesurfing in Las Terrenas but the kite market wasn't ready. Conditions  kitesurfing conditions in Las Terrenas are perfect to test new kite because the thermal wind is like a fan not more than 25 knots. The direction of wind is side shore with many safe bay offering crystal shallow water. The dominican kids from Las Terrenas was the first on the planet to test the new kite prototypes of Bruno like the Bow shape and 4 lines kite. Two to them starting at 10 years old were ranking top 10 in the world sponsored by WIPIKA which became  TAKOON. Las Terrenas was the first place in Dominican Republic where kiteboarding was borned to became popular in Cabarete already famous for windsurfing.
Kitesurf Cabarete
kitesurfing legend in the world
According to legend, Canadian windsurfer Jean Laporte came here in the 1980s and was quite literally blown away by the consistent and warm trade winds. The windsurfing community in Cabarete exploded and began to appear in the most popular windsurfing magazines of the time. Cabarete gained attention as one of the world's premier spots for kiteboarding and windsurfing. Cabarete has hosted many prestigious kite competitions. Many kiteboarder names like Luciano gonzalez, Posito Martinez, Ariel and Adeuri Corniel are famous in freestyle kite championships and recently in the Olympic games for the first time. Two brand of kites were creating in Dominican Republic which names are E.H. & Star kites. In 2003 when I discovered kitesurfing, my dream was to go to Caberete to meet all those actors of a new sport « kitesurfing » who will change my all life.