KITE WORLD
The number 1 rated kiteboarding school in the Dominican Republic since 2013. Open for beginners, kids, and advanced kiters
KITESURF SCHOOL
Rated the best kitesurfing school in Las Terrenas, Dominican Republic. We are famed for teaching kids to kiteboard, experts at beginner kitesurf lessons, and our certified instructors are the only English speaking team and kitesurfing school in Las Terrenas, making Kiteworld the obvious choice for travellers.
KITESURF RENTALS
From beginners to independant kiters, Kiteworld has all the kiteboard rental equipment in Las Terrenas. Gear for kids, beginners, and advanced riders – kites, boards, foils, and even kayaks. Plus helmets and buoyancy aids, surfboards and leashes. Get fitted on the sand, then enjoy the spectacular beaches.
DOMINICAN REPUBLIC KITEBOARDING SCHOOL
KITE SURFING IN LAS TERRENAS
5 STAR REVIEWS ON TRIP ADVISOR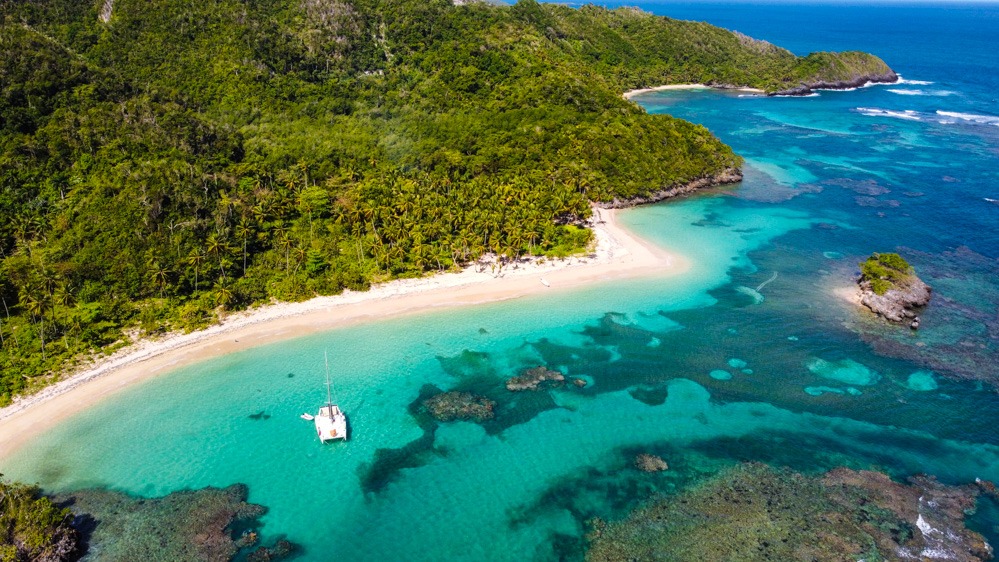 DISCOVER OUR KITE CRUISES
For the first time in the Dominican Republic!
If you are looking for a unique way to spend your next vacation, look no further! Stay on our catamaran and we'll take you cruising to the best kitesurfing spots in the country for an experience you won't forget.
FREQUENTLY ASKED QUESTIONS ABOUT KITESURFING IN LAS TERRENAS AND THE DOMINICAN REPUBLIC
HOW LONG WILL IT TAKE TO LEARN KITESURFING ?
You will need a minimum of 3 hours of lessons to start.  You will master 3 essential skills: piloting the kite on land, body dragging in deep water without the board, and water-start. It is recommended to do take the 6-hour package across 3 days so that you can become an independent kiteboarder with the kite control needed for every situation.
WHAT IS THE BEST SEASON TO DO KITEBOARDING IN THE DOMINICAN REPUBLIC ?
The Dominican Republic has wind almost all year round.  The best months are February, March, April, July, and August. The best time for surfing in the Dominican Republic is from November until April along the North shore of the island.
WHAT'S THE CLOSEST AIRPORT TO LAS TERRENAS ?
20 minutes: Samana El Catey ( AZS ) only flights from Toronto ( YYZ ), Montreal ( YUL ), Ottawa ( YOW ), Frankfurt ( FRA )
2 hours: Santo Domingo Las Americas ( SDQ ) with many flights from the United States ( JETBLUE, AMERICAN AIRLINES, SPIRIT, DELTA ) and Europe ( AIR FRANCE, AIR CARAIBES, IBERIA, TUI FLY )
5 hours: Punta Cana International Airport ( PUJ ) with many connections in the world.
PUBLIC BUS TRANSFERS FROM AIRPORTS TO LAS TERRENAS ?
Santo Domingo: take 10 min taxi from Las America's airport to the bus stop « Parada Samana » company name « Transporte Las Terrenas »
Timetable : 8:50 am – 9:50 am – 11:20 am – 2 pm – 3:20 pm – 6:20 pm
Punta Cana: you'll need to take 2 buses in total! – take 15 min taxi from Punta Cana airport to the bus stop «Cruce de Veron» company name « Espresso Bavaro»
Timetable: 7 am – 9 am – 11 am – 1 pm – 3 pm – 4 pm (always fully booked, buy your ticket 30 min before) STOP before Santo Domingo at the bus station «Parada Samana» – company name «Transporte Las Terrenas»
Timetable: 8:50 am – 9:50 am – 11:20 am – 2 pm – 3:20 pm – 6:20 pm
WHAT ARE THE DIFFERENCES BETWEEN KITESURFING IN CABARETE AND LAS TERRENAS ?
Cabarete: 200 kites in the air; 15 kite schools; choppy and big shore break difficult for students; strong winds between 20 – 30 knots; perfect for waves riders; not many flight connections from Puerto Plata airport.
Las Terrenas: Uncrowded spot;  flat and shallow crystal clear water;  perfect for beginners, freestyle coaching and hydrofoil lessons;  many flight options from Santo Domingo airport. There are also many other things to do such as whale watching, visit El Limon Waterfall, or Los Haitises national park. Just ask for details.
WHEN I LOOK AT WINDGURU WIND STATISTICS, I DON'T SEE GOOD WIND. WHY?
No worries the wind speed is always between 15 & 20 knots and super steady like a fan! Unfortunately, Windguru doesn't take into account the local thermal wind which reinforces the steady trade winds «Alizes».  It is best to add 5 knots to the forecast.
IF I STAY FOR ONE WEEK, WHAT IS NEXT AFTER THE 3 DAYS LESSONS PACKAGE ?
Based on your level, we will adapt the training program with either more hours of lessons or rental under supervision.  We will ensure that you maximize your time on the water having fun!
IS THE DOMINICAN REPUBLIC SAFE?
Yes! Don't forget that the principal economy of the island has been tourism for the last 20 years.  The Dominican people will take the best care of you and make sure you spread the word about this beautiful place.
DOMINICAN REPUBLIC VACCINATIONS AND MEDICAL PRESCRIPTIONS ?
You need nothing other than the common travel vaccinations! You must be careful with the sun and make sure you have adequate protective clothing: rashguard, hat, sunglasses, sunblock …. The mosquitos tend to come out at the beginning/ending of the day.
WHATS IS THE CURRENCY IN THE DOMINICAN REPUBLIC?
The national currency is the Dominican pesos ( DOP ) but you can exchange US Dollars & Euros everywhere (be warned airport rates are the worst ! ). Credit cards are not accepted in most small Dominican shops,  but are welcome in hotels, and many restaurant & activities. ATM fees are normally  $5 for each withdraw at the machine in addition to your bank charges!
DO I NEED A CAR IN LAS TERRENAS ?
The answer is NO! It's a small village where you are 30 minutes walking distance to anything.  If you want to discover the uncrowded beaches nearby, then it is better to rent a scooter or an ATV.
WHAT ADDITIONAL EQUIPMENT DO I NEED TO KITESURF IN LAS TERRENAS ?
No wetsuit, no shoes only your board shorts! During winter you'll need a 14 m & 12 m kite quiver and in the summertime a 12m & 9 m kite quiver. It is possible to hydrofoil in certain areas so ask us for more information.
KITESURFING IN THE DOMINICAN REPUBLIC
LAS TERRENAS – WHERE A NEW SPORT WAS BORN
By 1984, the French brothers Bruno and Dominique Legaignoux had patented the first inflatable kite (LEI). That patent is still in use today by all the kiteboarding manufacturers.
In 1995, they created and launched the first kite brand WIPIKA (Wind Powered Inflatable Kite Aircraft). This signaled the birth of kitesurfing as a sport as we know it today.
In 1999 Bruno decided to move to the Dominican Republic, and Las Terrenas proved to be the perfect place for his research and development. Having consistent wind of no more than 25 knots, powered each day by the thermal wind, it was just like having a fan! Combined with the side shore wind direction and its many safe bays offering crystal clear shallow water, he was able to work on a number of ideas for the future of kitesurfing which were far ahead of their time.
The Dominican kids from Las Terrenas were the first on the planet to test Bruno's new kite prototypes, such as the Bow shape and later 4 lines kites. Two of them, who started at 10, were soon ranking in the top 10 of the world's best kitesurfers and were sponsored by WIPIKA (which later became  TAKOON).
Las Terrenas is the place in the Dominican Republic where kiteboarding was born, and so is a perfect place for you to start or build on your kitesurfing journey.
KITEBOARDING IN THE DOMINICAN REPUBLIC
CABARETE – WHERE KITESURFING LEGENDS WERE BORN
According to legend, Canadian windsurfer Jean Laporte came to Cabarete in the 1980s and was quite literally blown away by the consistent and warm trade winds.
The windsurfing community in Cabarete exploded soon after and began to appear in the most popular windsurfing magazines of the time. Cabarete gained attention as one of the world's premier spots for windsurfing and eventually kiteboarding.
Cabarete has hosted many prestigious kitesurfing competitions. Many famous freestyle kiteboarding names like Luciano Gonzalez, Posito Martinez, Ariel, and Adeuri Corniel started out here. They also were recently in the Olympic games for the first time.
Two kite brands were created here in the Dominican Republic, E.H. & Star kites.
"In 2003, when I first discovered kitesurfing, my dream was to go to Cabarete and meet all of these legends of this new sport « kitesurfing ».  This changed my life and fuels my passion for teaching and sharing this great sport with all the people I teach kitesurfing to."

– Vincent, owner at KiteWorld