The Dominican Republic is one of the biggest islands in the Caribbean, where you will find great weather, warm waves, and consistent year-round swell. There are many surfing spots across the country with plenty of things to do in between sessions. Our surf school in the Dominican Republic offers surfing lessons and surfboard rentals. Learn to surf in Las Terrenas or improve your surfing skills!
Surfing in Las Terrenas, Dominican Republic
Las Terrenas offers perfect conditions for beginners, with a beach break very easy to pass thanks to the shallow water. It's the ideal destination if you want to learn to surf or if you haven't surfed in a while. Even your young kids can enjoy surfing in the Dominican Republic in total safety. The best time for surfing in Las Terrenas is from September until April when the waves and water conditions are optimal.
KiteWorld isn't just a kite school, we are also a surf school, as we want to share our passion for the sea and water sports! Our instructor will gladly provide all the help you need to learn how to surf, gain confidence, and improve your skills. We also have surfboards available for daily or hourly rent.
Our surf school uses foam boards for extra safety and ease of use. Foam boards are user-friendly, super forgiving, and very stable, which makes catching waves and standing up a lot easier. Moreover, they are safer to use as the risk of the board hitting someone (including yourself) and injuring them is far lower than with a traditional board.
Imagine your dream day: after a healthy breakfast of fresh tropical fruits, going surfing in the morning and kiteboarding in the afternoon, finishing the day with a piña colada, watching the sunset. There are also a lot of natural and cultural attractions around Las Terrenas to discover on your rest days or when the weather conditions are not optimal.
Las Terrenas is the perfect vacation spot, for surfers and none surfers alike as there so many things to do while there. It's the perfect blend of natural sights and cultural diversity, where you can alternate between activities and relaxing times at the beach. The whole family will have a blast, couples will love the romantic atmosphere, and friends will enjoy the busy nightlife.
Surfing spots in Las Terrenas, Dominican Republic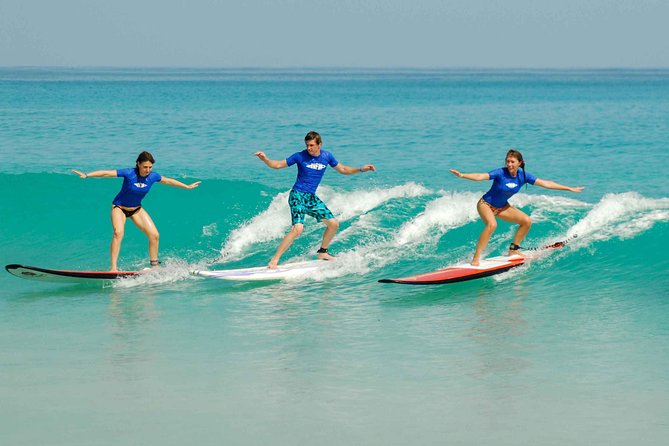 PLAYA BONITA

In Playa Bonita, you'll find beach break waves, right and left waves, and bottom sand. It's a great spot for beginners, and it's usually uncrowded.
The central part of the beach offers small beach break waves. Along this stretch, you'll find numerous breaks and various peaks, creating high-quality waves.
If you want to try surfing for the first time, go to the very right end of Playa Bonita. There, you will find very gentle, beginner-friendly, waves, perfect for a first trial or for children to surf in a safe environment.
On the left, the waves get higher but typically still nothing to be scared of, perfect for when you get more confident and want to develop your skills.
Playa Bonita is a great surfing spot in the Dominican Republic for beginners and especially for kids. Parents can easily observe their children's progress from the beach, where you'll find plenty of bars, restaurants, and a couple of hammocks.
PLAYA COSON

In Playa Coson, you'll find beach break waves, right and left, and bottom sand with a bit of reef. It's a perfect spot for intermediate to expert levels. The spot is usually uncrowded. There, the beach is exposed, with reef break waves, and it's usually a quite reliable surfing spot. It tends to receive a mix of groundswells and wind swells with the best swell direction coming from the north.
Coson Beach is one of the best places for experts to surf in the Dominican Republic, with the biggest waves caused by the rocks and strong stream, making it difficult to pass over. The wind is usually picking up around midday which can mess up the quality of the waves, so the best time to surf in Coson is in the morning.
The beach is easy to access, with free public parking, and a couple of shops and restaurants.
Our Surf School in Las Terrenas
KiteWorld offers surfing lessons in 3 languages (French, English, and Spanish) for all ages with certified instructors on the north coast of the Dominican Republic. We are located on the best beach for learning how to surf, right in front of one of the top beginner-friendly surfing spots in Las Terrenas.
Our surf school in the Dominican Republic offers a wide variety of boards according to your level and preferences, either for rent if you already know how to surf or to use with an instructor.
We have developed a special method of teaching to maximize learning and cover all basics thoroughly. First, we practice surfing techniques on the beach, to build your muscles memory. Afterward, the surfing instructor stays with you in the water to correct your surfing position. He will also advise you on the best timing to catch waves, according to your level.
Our surf school aims to adapt the pedagogy for special students with small handicaps or for younger children, and make their surfing dream reachable. All the instructors at our surf school are friendly and warm. In our surfing school, we try to create a welcome and inclusive atmosphere based on learning while having fun.
If you are staying near a surfing spot, we'll come to you, either for classes or for surfboard rentals. We'll deliver the boards to your villa or hotel in Las Terrenas. We can also arrange for transportation from your hotel to the surf spots.
While in Las Terrenas, you can also discover stand up paddle, kitesurfing, and hydrofoil, or go on an excursion to discover Las Terrenas surroundings and the beauty of the Samana peninsula.
Surfing lessons and surfboard rentals – Prices
| | | |
| --- | --- | --- |
| | Hourly | Daily |
| Surfing lesson | $30 (USD) | – |
| Surfboard rental | $10 (USD) | $30 (USD) |