KiteWorld can help you book the best accommodations in Las Terrenas, close to some of the best kite spots in the Dominican Republic, according to your budget and what you're looking for. Don't hesitate to contact us and we'll help you find the best fit for you, taking care of everything, so you have one less thing to worry about.
Las Terrenas is a great place to go on a vacation, there are plenty of things to do, places to discover, and adventures to go on. Accommodations in Las Terrenas cater to all budgets and travel styles, whether you are a large group looking to rent a beachfront villa, a couple looking for a romantic hotel, or a backpacker looking for a cheap bed in a hostel, we've got you covered.
BOOK THE BEST ACCOMMODATIONS IN LAS TERRENAS WITH US
For a worry-free vacation, we can arrange your stay in Las Terrenas, from airport pick-up to hotels or villa booking. Let us help you with anything you might need.
We have carefully curated the best accommodations in Las Terrenas, based on services offered, staff friendliness, location, amenities, and past customer satisfaction. We have hand-picked only the best hotels, villas, and apartment rentals, so you can relax and don't have to worry about anything.
Tell us what you are looking for and we will book the best option available according to your budget. We guarantee the best prices and work closely with the accommodations we recommend.
In Las Terrenas, you will find a large range of accommodations to fit all tastes, such as backpackers, charming hotels, private villas on the hill facing the seafront, 5-star all-inclusive resorts, and so on.
BEST HOTELS IN LAS TERRENAS
In Las Terrenas, you will find a wide selection of hotels, from hostels to 5-star resorts, with many all-inclusive options. All the accommodations we offer are right on the kite spots, and around 15 minutes away from the city center, where you will find plenty of restaurants, bars, and grocery stores; you don't even need to rent a car, everything is within walking distance.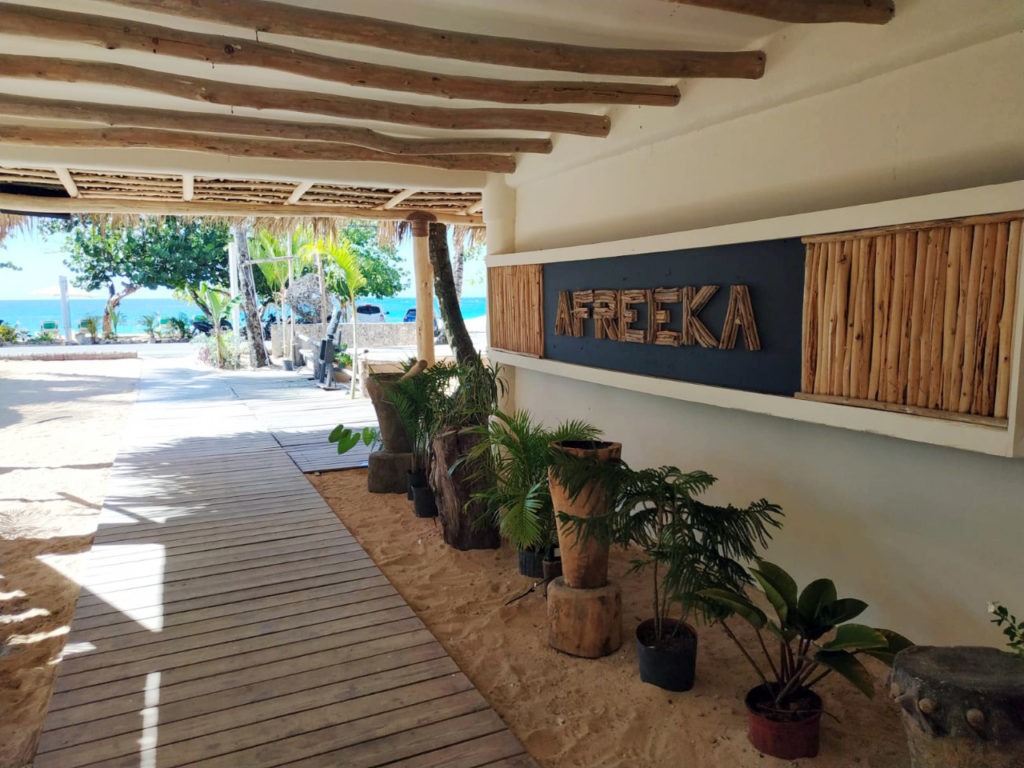 Right in front of Punta Popy, one of the best kite spots in the Dominican Republic, Afreeka Hotel is no more than 10 minutes on foot from the city center. With its beachfront, two restaurants, swimming pool, and a breakfast option, it's one of the best accommodations in Las Terrenas.
There you'll find several bungalows with AC, TV, safebox, two floors, and a private terrasse to watch the sunset. The bungalows can host up to four people. They also offer bunk beds in their 6-beds dormitory for solo travelers, backpackers, and travelers on a budget.
If you are a group or a big family they offer a penthouse that can host up to 14 persons. With 7 rooms that include a TV, A/C, and a private bathroom, the penthouse includes a rooftop terrace, a fully equipped kitchen, an open living room, and a jacuzzi. The penthouse can also be split in two for smaller groups.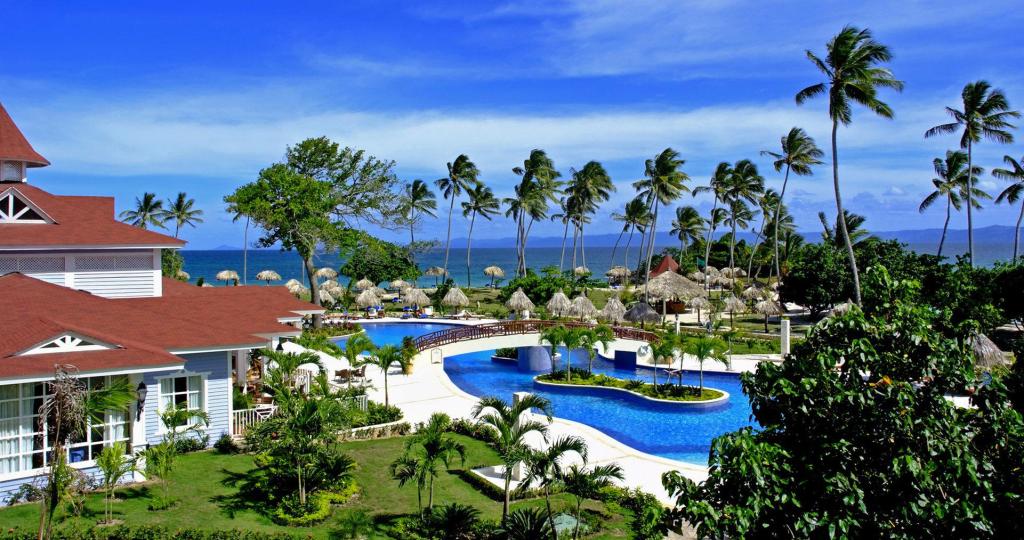 Right on El Portillo beach, another popular kitesurfing spot in Las Terrenas, Bahia Principe Grand is a 5-star all-inclusive resort located 45 minutes walking from the city or 10 minutes by car or scooter. This beachfront all-inclusive resort in Las Terrenas offers six restaurants, two swimming pools, a spa, a gym, a kid-friendly area, a conference room, and four different types of rooms and suites.
PRIVATE VILLA RENTALS IN LAS TERRENAS
If you want to come with all your family to Las Terrenas, as a group, or want privacy, you can rent a house or apartment in Las Terrenas. We can help you find what you are looking for from small vacation rentals to full-on luxury villas with a chef, bartender, massage room, gym trainer, housekeepers… Here are a few of the options we offer, but don't hesitate to contact us, and we will find something to fit your budget and what you're expecting.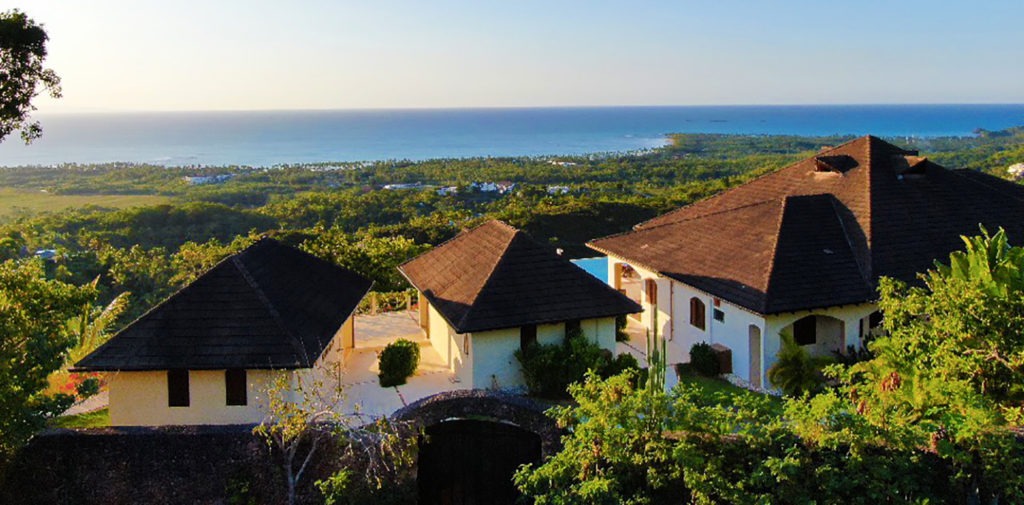 HILLTOP VILLA
Luxury property offering a breathtaking panoramic sea view, located on top of a hill facing Playa Coson with an infinity pool and 8 rooms.
The house has been designed as a hamlet. Each guest enjoys the privacy and freedom of the premises, getting also the advantage of sharing large areas of warm friendliness.
The Dominican staff will take good care of you (cleaning, cooking, food delivery, nursery, massage, and more…). The villa can host up to 16 persons. Located in a peaceful and quiet area, it's only a 5-minute drive to the beach and 10 minutes to get to the center of the village.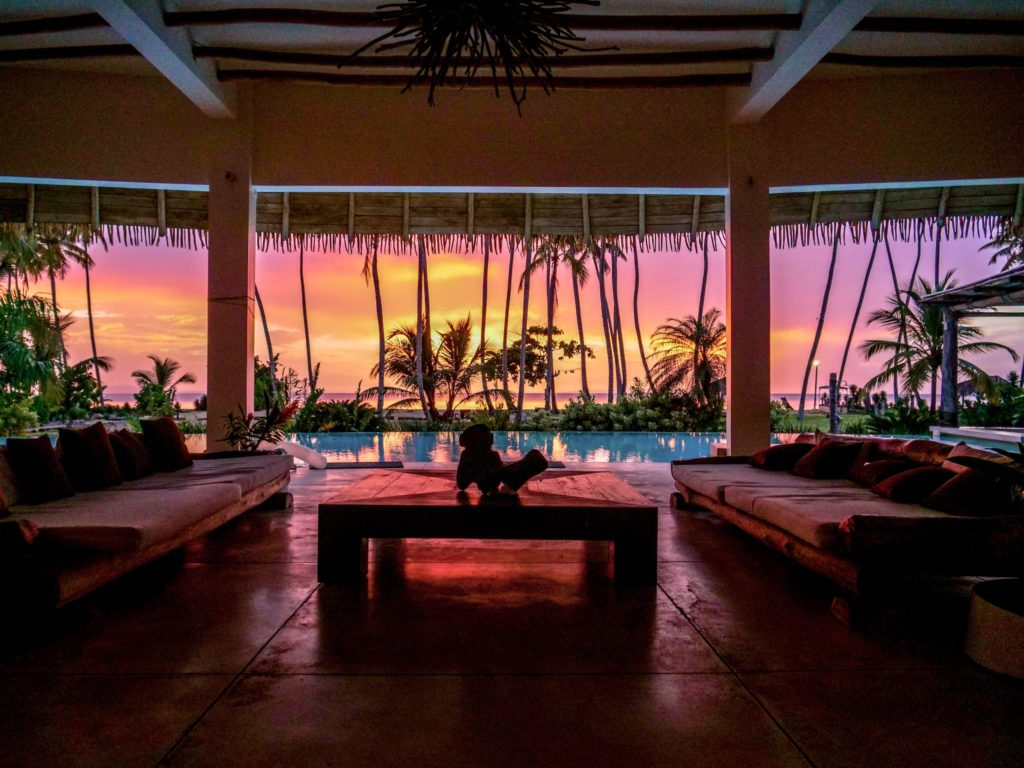 VILLA DEL MAR
A beautiful beachfront villa inside a gated community, Villa del Mar is a paradise on earth. Enjoy 21,500 Sq ft of living area,13 bedrooms, a pool with jacuzzi, and many more amenities and services to make your stay in Las Terrenas relaxing, renting this all-inclusive villa.
Located on Playa Coson, you'll enjoy calm and tranquility while being close to Las Terrenas city center where you'll find plenty of restaurants, bars, and activities.
Located in Punta Poppy, in the heart of Las Terrenas, La Fenice offers apartment rentals for up to 4 people in a private residence with a pool. The apartment has a terrace with a view of the pool, a fully equipped kitchen, and everything you need for a relaxing stay in Las Terrenas.
It's perfect for small families or couples who want privacy and their own space. The location is also ideal, with everything accessible within walking distance.