Live an extraordinary kitesurfing experience on your next vacation onboard Elise, our fully equipped 47-foot catamaran. Forget noisy hotels and crowded beaches, and come discover the Dominican Republic in all its splendor. Stay on our catamaran and explore virgin beaches, breathtaking scenery, and of course incredible kitesurfing spots. Join us for an epic kitesurfing cruise!
We offer private trips where you can enjoy optimal wind conditions and uncrowded spots. Stay with us and take your kitesurfing skills to new heights, with daily kitesurfing sessions in the best spots the country has to offer surrounded by pristine beaches and unspoiled nature.
Explore the Dominican Republic by catamaran
Our catamaran features 3 queen-size cabins that can host up to 6 guests and comes fully crewed with the captain, a chef, and a kite instructor. We will create an itinerary tailored to your expectations, according to the places you want to visit, and kitesurfing level. The whole family can join, with kitesurfing lessons available for kids (as long as they weigh more than 90 pounds). It will also be an awesome trip for a group of friends or team building. At KiteWorld, our goal is to share our paradise and everything it has to offer.
We provide all necessary equipment and transportation to/from the airport to the catamaran. Onboard, you'll enjoy an all-inclusive vacation in paradise-like settings.
We offer you an unforgettable stay, discovering the secret beaches of the Dominican Republic's northern coast, where the wind conditions are optimal for kiteboarding from December to August. Kitesurfing from a boat allows you to reach places you couldn't if you started from the beach. It's a unique experience kiteboarders will enjoy and a special way of spending your vacation.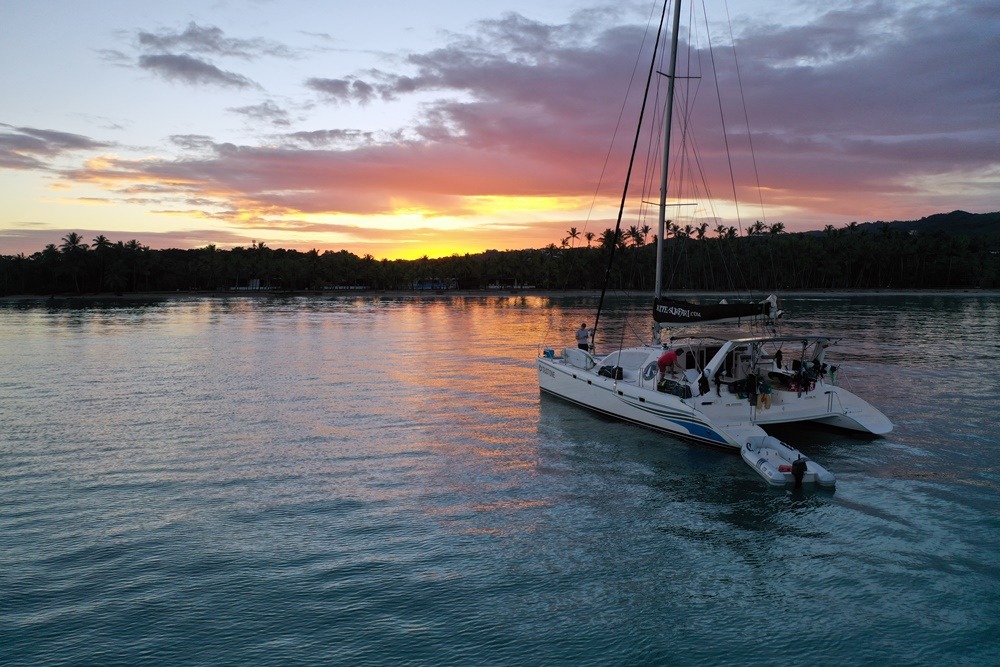 Live on a boat for a week or two, learn sailing, kitesurf every day, and explore the beautiful Samana Peninsula. There are plenty of stunning places to discover in the Dominican Republic, in between two kiteboarding sessions, trek to the refreshing El Limon waterfall, explore Taino caves in Los Haitises National Park, zipline your way through the lush jungle, or discover the rural side of the Dominican Republic along the Ruta del Cafe.
From mid-January to mid-March, you will also have the opportunity to go whale watching in Samana Bay. During this time, hundreds of humpback whales come to this protected area, taking advantage of the warm waters, to give birth. Watch as they play with their young ones and teach them how to jump and swim. It's a unique thing to experience, watching these majestic beings in their natural habitat.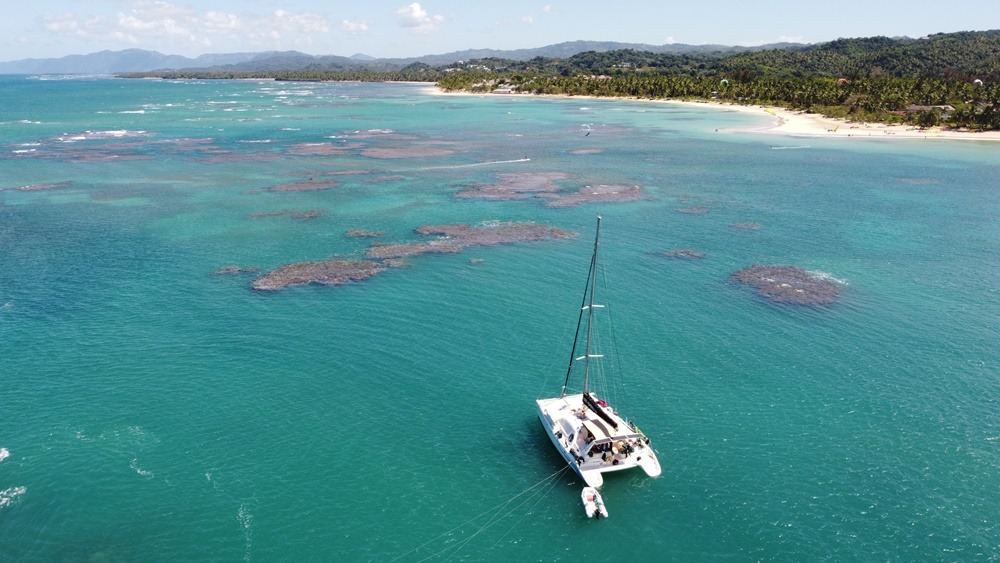 If you are ready to spend your next vacation in paradise, kitesurfing and exploring the Dominican Republic while staying on the water, enjoying peace and tranquility, our kitesurfing cruise is the best option for you! It's a great adventure to experience with your family and friends, discovering new horizons and creating memories that will last a lifetime.
Kitesurfing cruise – Onboard the Catamaran
Onboard a chef will treat you to delicious fresh meals made with local food. You'll get a taste of Caribbean cooking, enjoying filling and tasty dishes. The full board is included and we will adapt the menu if you have a special diet.
Enjoy well ventilated cabins, with a large double bed and en-suite bathroom. Gaze at the stars from your bed through the deck hatch and enjoy a comfy bed to relax in after a day of adventures.
If you want to try your hand at sailing, we will teach you the basics of how a catamaran operates. Learn how to hoist the sails and lift the anchor, then set your course on the GPS. You will also learn how to launch directly from the catamaran allowing you to kite otherwise inaccessible spots. Take advantage of your vacation to gain new kiteboarding skills and learn new tricks.
Kiteboarding cruise – discover new board sports
Advanced kiteboarders can also try out our selection of foils. We offer lessons and rental for kite foil, wing foil and even surf foil! Why not add another toy to your collection!
KiteWorld has been teaching kitesurfing in Las Terrenas for 10 years and is always at the forefront of new water sports. Our certified instructors are dedicated to bringing you the best experience while improving your skills and having fun. They are trained to make sure you will improve your skills along the trip and lose your bad habits. We can teach you new sports with private lessons directly from the safety boat for quality results in little time.
During winter, you can also go surfing. Samana offers a couple of nice spots with safe conditions to learn. We will pick the best location according to your level, you'll find surfing spots for beginners to advanced surfers. The best time to go surfing is early morning, which is perfect as the wind picks up in the afternoons. This way you can surf in the mornings and kitesurf in the afternoons.
The Dominican Republic – the perfect kitesurfing destination
The best period for kitesurfing in the Dominican Republic is from December to August with the strongest winds from March to July. The northern coast of the Dominican Republic is constantly exposed to the trade winds which are reinforced by a thermal effect in the afternoon. The closer you get to the border with Haiti, the stronger the wind will be.
We are based in Las Terrenas, in the Samana Province, where the wind is around 15 to 20 knots. Las Terrenas is still relatively uncrowded compared to more known locations like Cabarete. It's a secret kitesurfing destination where you can still find empty kitespots not far from the town. It makes it the perfect place for beginners as well as for people wanting to learn new tricks and improve their freestyle figures.
Interested? Don't hesitate to contact us for any inquiries you might have about our kitesurfing cruises. We can also arrange for stays on our catamaran for people not interested in kitesurfing, visiting the island, and getting the onboard experience.