A complete guide to kitesurfing lessons in the Dominican Republic by Kiteworld, the top kitesurfing and kiteboarding school in the Caribbean.
What you need to know:
If you are coming for kitesurfing lessons in the Dominican Republic, there is a good chance that you are a beginner or at intermediate level. Las Terrenas (located near Samana Bay) attracts many first timers because of the flatwaters and moderate winds. Though, experienced kitesurfers can get away from the beaches and head out into the open bays for greater rush. It might even be worth sharpening up your skills before you hit the water even if you are an advanced rider, so that you can make the most out of your kiting holiday in tropical paradise.
If you bring your own gear, then that's great. However most travellers to the Dominican Republic do not carry their own equipment all the way from their home countries. Instead kitesurfing lessons in the Dominican Republic by Kiteworld offer board and kite hire. So let's talk about your board…
Boards and Gear
Boards (kiteboards and kitesurf boards) vary in shapes and sizes which affect their performance. The most common board you will see people riding is known as a twin tip, and the other boards you might see will be directional boards and foil boards. These are the three most popular types of boards; although you might have seen footage of some creative kitesurfers who decide to ride skis, a wakeboard, skimboard or even a kayak, ha. It is the twin tip boards that are the most common type of kiteboard.
They get their name from the symmetrical outline of the board (both ends are the same) which enables the rider to go left or right without switching feet. The twin tip board is used regularly by beginners learning kiteboarding and kitesurfing, and will most probably be the type of board you use throughout your progression.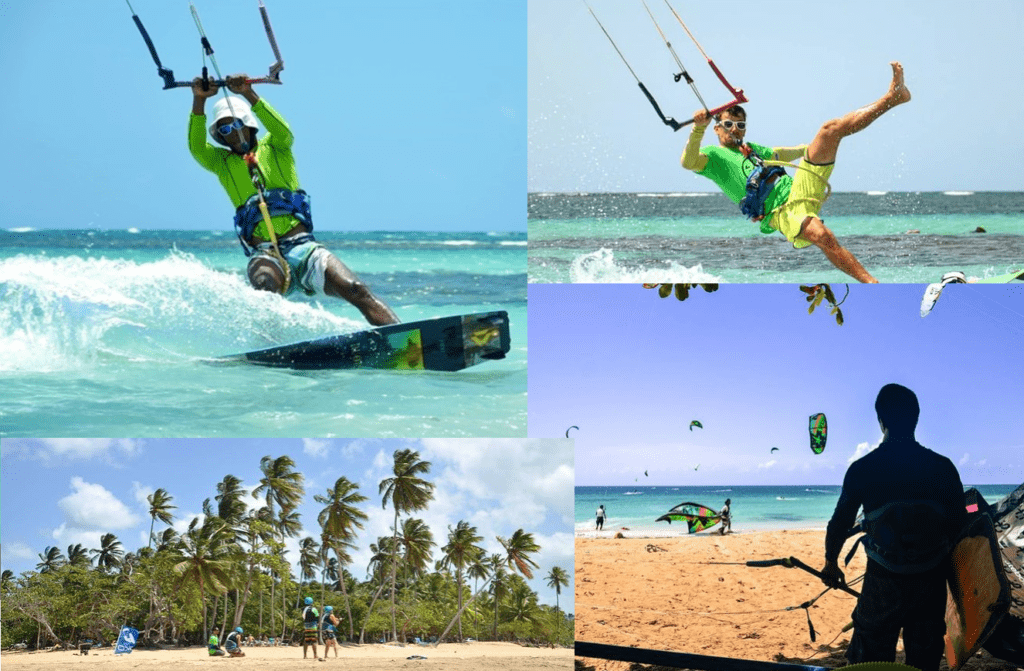 Helmets are not required, but for beginners doing kitesurfing lessons in the Dominican Republic we would say it's a good idea to wear them. It just means that if you fall off into the water that you are protected from hitting your head, whereas experienced kitesurfers may instinctively react faster in the same circumstance. At the end of the day though, Kitesurfing and kiteboarding are action sports and in the midst of action, many things can happen. A helmet protects your head from falling kites, swinging boards, and so you might as well one anyway.
Buoyancy aid: Kitesurfing involves water and water sports involves swimming. You might be a good swimmer, but waters can be treacherous even on a perfect day. A personal flotation device will help to keep you afloat while you learn, help you catch your breath after a crash, or help you swim back to shore if you need to.
Kitesurfing lessons in the Dominican Republic: In addition to the essential kitesurfing accessories, you can also use water sport sunglasses, a hat, and a rash guard. There is nothing worse than coming home from a long day at the beach looking like a sunburned red lobster. Oh, and what about using a board leash? You know… to keep your board from floating away. Err, No. Never use a board leash at any point. Board leashes can be dangerous and can cause injury to the head and spine. To retrieve your board on the water, your instructor will teach you how to body-drag upwind, an essential skill to becoming an independent kiter.
Kitesurfing lessons in the Dominican Republic
Las Terrenas, in the heart of the Caribbean, offers amazing wind conditions to learn kiteboarding from December to September. Lessons at Kiteworld are broken down into the number of hours you wish to have your instructor teach you. Here are a few options:
"Discover Package" – 3 hours, $120 per person, or $70 in a group.
If you and your friends are around only for a day or two days, this package will give you a taste of kitesurfing. At the end you will be able to water start. The package includes body dragging, water starts, and piloting the kite on land.
"Hook-up Package" – 6 hours, $320 per person, or $200 in a group.
This is the best solution if you want to learn to do kiteboarding or kitesurfing on your own – fast! After this course, you will be able to control your kite safely in every situation and ride the board. You will receive your IKO certification as well.
"Instenive Package" – 9 hours across 3 days, $690 per person, or $590 in a group.
This package is made for sport lovers. If you really want to learn kitesurfing deeply and be fully independent in the water, this is the course for you. You will learn body dragging, how to rescue the board, and water-start on both sides. Plus we will use walkie-talkies for fast communication. At the end of the course you'll get your IKO certification.
Kitesurfing lessons in the Dominican Republic can be fun, thrilling, and for the whole family. Kiteworld offers KIDS LESSONS as well, so ask us about the age and weight limits. The kitesurfing conditions in Las Terrenas are fairly consistent year round. The temperate of the water doesn't change much either, with the trade winds blowing a constant. This is ideal for beginners who wants to start off in swallow waters and then progress to deep water kiting or even kite cruises.