The epic 2021/2022 kitesurfing season is underway, and kiters from all over the world have been travelling to the Dominican Republic to kitesurf. If you are thinking the same thing, here's your guide to Kitesurf Dominican Republic.
Kitesurf Dominican Republic: Cabarete
The Cabarete wind blows almost all year round, with a great combination of flat water, wave riding and downwinders. Further out to sea natural beauty is everywhere you look, with lush green mountains contrasted by the light blue waters. Cabarete kitesurf beach draws a lot of attention because of the ideal kiting conditions. You can quickly launch your kite in the shallow waters or take a kiteboarding boat and launch from the boat at sea.
Beaches in Cabarete include Playa Cabarete, Kite Beach, and Encuentro Beach.
And for intermediate and advanced kiters looking to kitesurf Dominican Republic there is a very good reason why you would want to get away from Cabarete beach: the crowds. This beach is packed with beginners, kitesurf schools, and tourists. You will be lucky to find a spot where you don't run into someone. It is quite common at Cabarete beach for kiters who are learning to crash into each other. Our advice is travel further south to quieter kite beaches in Las Terrenas or Samanán bay.
Kitesurf Dominican Republic: Las Terrenas
Las Terrenas is a better option for people who prefer paradise all to themselves. The kiting conditions across Las Terrenas are just as good, if not better than Cabarete, with the added advantage of less tourists. The beaches here are perfect for beginners and advanced riders.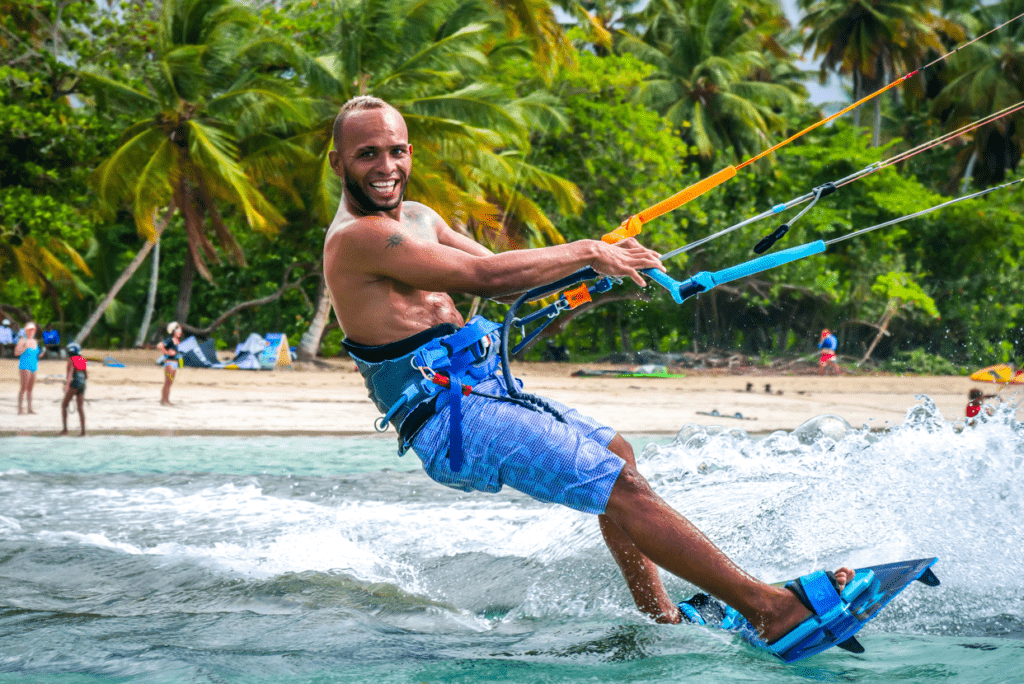 Las Terrenas has good weather all year around. The high season from mid-December until mid-September offers amazing sunny weather with very little to no rain and great trade winds to cool you down from the hot weather. The air temperature is 30°C all year long and the water temperature is 28°C so no need to bring a wetsuit. You will be able to enjoy long stretches of coastline without other kiteboarders in the water.
Beaches in Las Terrenas include Playa Punta Popy, Punta Bonita, Playa Las Ballenas, and Playa El Portillo.
There are a number of great accommodation locations in Las Terrenas, including small villas and boutique resorts tucked away amidst coconut trees, green forest, and the crystal clear water of bays. If you plan on staying long enough, check out the 2022 top things to do in Las Terrenas Dominican Republic.
Kitesurf Dominican Republic: Buen Hombre
Buen Hombre will blow you away – literally. Hidden away in the province of Monte Cristi on the northwest coast, this is one of the windiest spots in the Dominican Republic. The kiting conditions are very good. Constant winds, flatwater, and few people, means that Buen Hombre will get you flying across the water with a care in the world.
While there are waves breaking on the reef in Buen Hombre, it is not an ideal spot for beginner wave riders – the reef can be tricky to navigate. You also have trees close to the water, power poles, and a couple buildings. There are some fishing boats and nets in the bay closer to the village as well as submerged rock and reef that can pop up in the waves.
Buen Hombre is a relatively new world kiteboarding spot. It has mainly been a small fishing village until some entrepreneurs decided to build a few shacks and restaurants. Now there is quite a lot to do in the area: Boat trips, Wakeboarding, and Kayaking. There is even fairly consistent power and internet. To Kitesurf Dominican Republic in Buen Hombre, you can take a 3 hour road trip from Cabarete by car or van. Narrow dirt roads lined by leafy green trees will take you right to the beach itself. There are some amenities here, but first class living isn't an option.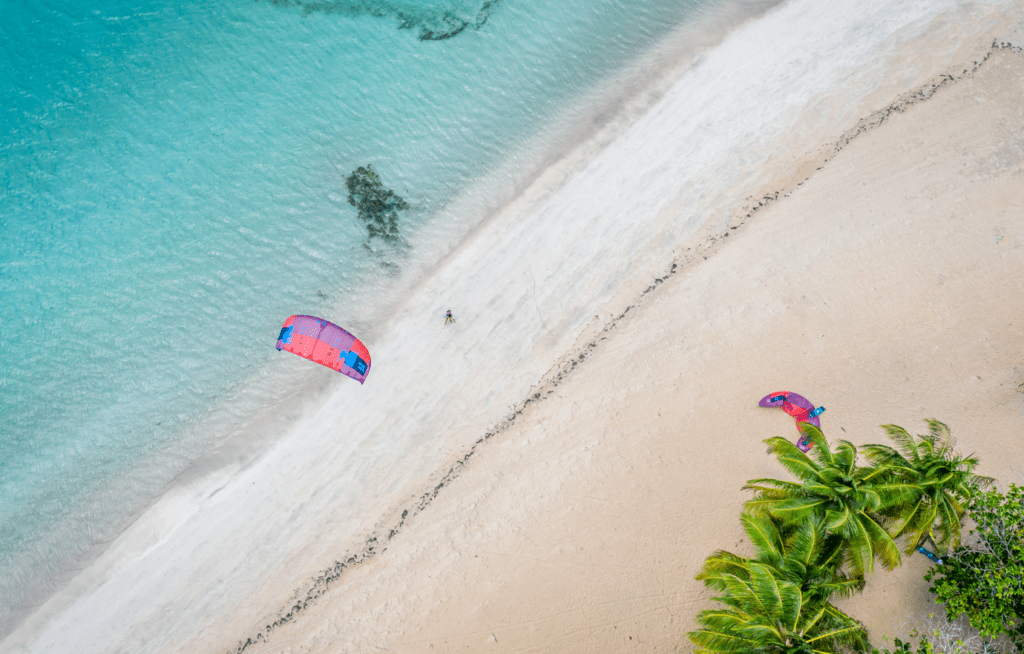 Kitesurf Dominican Republic: Getting Around
It all depends on what equipment and gear you are bringing, or not bringing with you. Experienced kites who travel from spot to spot across the Dominican Republic may prefer a van or car so that they can transport their stuff. Renting a car is cheap, but certainly not for the faint-hearted. Dominicans tend to make their own rules on the road. Keep an eye out if you are crossing intersections or going around corners. Do not drive fast.
There are also Moto-taxis, which are small motorbikes that cost between 50 to 100 pesos for around 5km. These are a good option if you plan on hiring kitesurfing equipment in the Domain Republic, because you wont need to transfer your own gear. Just a word of caution though – make sure you don't serious burn to your calf (commonly known as 'the Dominican Tattoo') on the exhaust pipe.
Kitesurf Dominican Republic: Medical Information
As most kiters know, travel destinations that provide the best kiteboarding conditions are often in places that are remote or not as developed. This just means that you are prepared before you arrive. The Dominican Republic is no expectation. Hospitals are not in every town. A crash onto a reef from your kiteboard could mean you require bandages or stitches. So pack some basic first aid supplies.
Viruses are not a major issue. Some government websites will suggest vaccinations and list all medical risks. There are NO required vaccinations for the Dominican Republic – only suggested ones. The truth is that most areas are very low risk. Malaria is practically non-existent. Zika virus is very low risk. And during the day if you carry and spray a good repellent containing DEET, the mosquitos won't be an issue.
RELATED TOPIC: Best Kitesurfing school in the Dominican Republic