Now more than ever we are seeing families travel to the Dominican Republic for kitesurfing. The fatigue of current world events has led to many people seeking an escape from the daily grind in the form of a tropical holiday with the family. But not just any paradise. Westerners are opting for adventure – kitesurfing and kiteboarding. There is no better way to entertain the kids, and get your dose of sun and surf at the same time.
Las Terrenas Beaches
The town is bordered by multiple beaches of white and cream sands, and turquoise waters that are warm all year round. Mountains rise up from the coastline and are full of coconut trees and lush green forests. This combination of natural beauty defines Las Terrenas as a jewel of the Dominican Republic.
Coson beach is a long white fine, sandy beach, lined with rows and rows of palm trees. It is quiet and clean. Right after Coson beach, there is an marvellous small beach called Playa Perdida that faces the mountains. At sunset, the views are especially spectacular. Playa Perdida is not well known. You may not find it on all maps, but it's worth the trip.
Finally, the whole family will love Punta Popy beach. Here you'll find side on-shore winds, with the sea a bit choppy. It's a good Dominican Republic kitesurfing spot for intermediate to advanced levels, where you can ride downwind. Stretching over several kilometers, the beach also benefits from large and very calm spaces. Families sit there for a picnic, while kiters take advantage of this immense playground.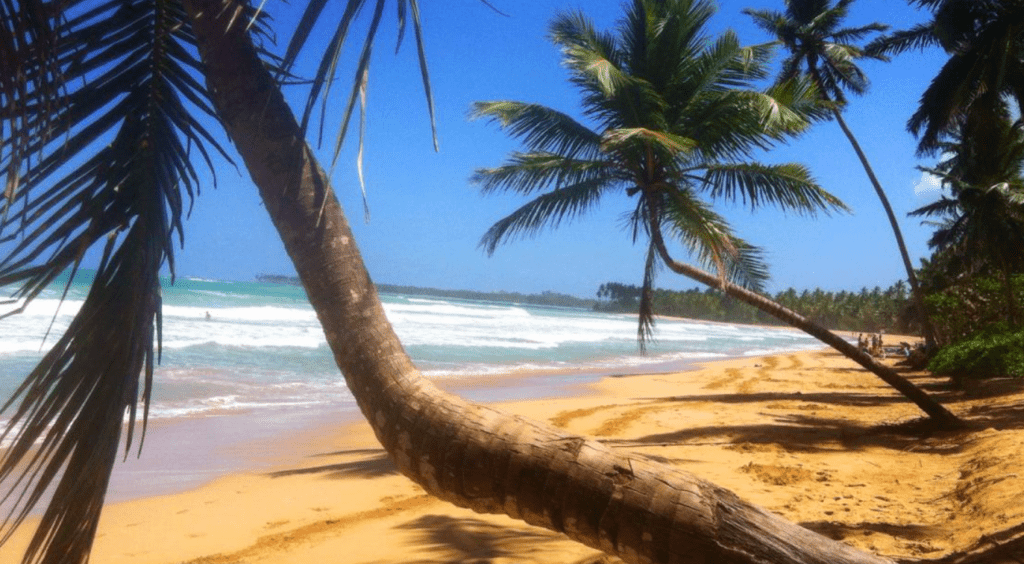 Las Terrenas Kiteboarding
If you're looking for the best of the best kiteboarding spots in the world then you just hit the jackpot. It is quiet… It is beautiful… And best of all most tourists flock to the Samaná Peninsula or Cabarete, so you'll likely have the beaches to yourself. No wonder smart families travel to the Dominican Republic for kitesurfing in Las Terrenas. The area has super steady thermal winds, starting around 1pm and ending at around 6pm.
Kiteworld holds family Kitesurfing lessons in Las Terrenas from morning to mid-afternoon. Kite lessons range from 2 – 3 hours per day. You may consider attending the kite school across the whole week or two of your holiday. Most families learn kiting as a group – that way you can encourage, support, and laugh at each other.
Young kids are also welcome to give kitesurfing a go. Your kids should be at least 40kg or 90lbs, so that makes them around 8 to 10 years old. What is most important is that the decision to kitesurf is up to them. They must already have a certain amount of confidence in themselves and in being in the water. If you think Kids Kitesurfing in the Dominican Republic is perfect for your family, check out our information and consider booking in a free session on the beach.

Families travel to the Dominican Republic for kitesurfing
For Americans, US flights are direct into the Dominican Republic with most families landing in Santo Domingo or Punta Cana. From there, travel to Las Terrenas or Samana Bay is a simple direct bus ride (check out the routes and pricing on Rome2rio).
The Dominican Republic is a short flight indeed from the US. From cities like Boston, Chicago, New York, and Detroit, the plane ride is about 4 hours in duration. From Miami, it's just 2 hours.
There is no need to lug all your watersports gear with you on the trip, by the way. You are better off leaving your heavy surfing and kitesurfing equipment in the US and simply renting what you need from within the town you are staying. If Las Terrena is where you are planning to stay, you can hire all the kitesurfing equipment from Kiteworld, right on the beach.