Punta Cana is one of the top destinations in the Dominican Republic and probably the most popular one. People often confuse the two as Punta Cana is the most frequented destination on the island. While there are a lot of amazing kitesurfing spots in the Dominican Republic, there are only a few ones near Punta Cana, and you can only kitesurf there 2 months of the year.
Most people who want to kitesurf in Punta Cana, plan to spend a few days in Las Terrenas or Cabarete, which are both exceptional kiteboarding destinations. Cabarete is more popular, hence more crowded, while Las Terrenas is perfect for beginners and people looking to learn new tricks without having to worry about other people in the water.
About Punta Cana
Located on the easternmost part of the Dominican Republic, at the junction between the Caribbean Sea and the Atlantic Ocean, Punta Cana means "sugar cane tip" in Spanish. The region is known for its sugar cane plantations and the manufacture of sugar and rum.
Punta Cana became a popular destination in the Caribbean when the first all-inclusive hotel in the country, the Club Med, opened its doors in 1984. Subsequently, multiple all-inclusive hotel chains settled around Punta Cana's white-sand beaches and turquoise waters to form the largest seaside beach resort destination in the Dominican Republic. With kitesurfing becoming popular in the country, a few kite schools opened there, and tour operators often organize kitesurfing trips to other kitesurfing spots in the country.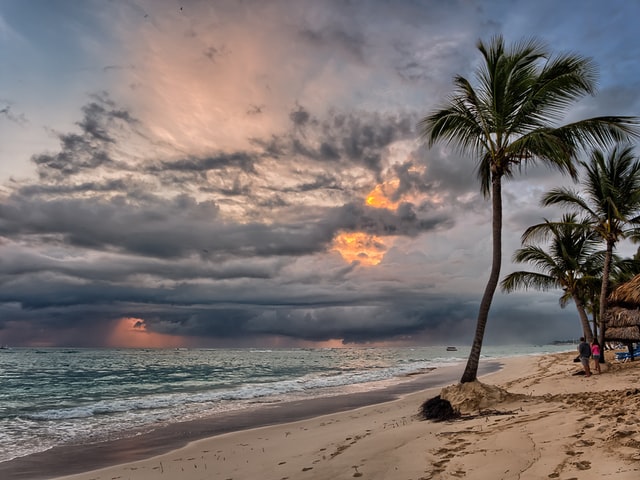 Kitesurfing in Punta Cana
While you technically can kitesurf in Punta Cana, you should know that it is not a real kiteboarding destination because of its very low wind statistics. Being located downwind of Puerto Rico, there's almost no trade winds in this part of the island. In addition, the thermal wind only blows at night, which makes kitesurfing sessions only possible late in the evening or very early in the morning.
Best season to kitesurf in Punta Cana
The best months for kitesurfing in Punta Cana are from November to December thanks to the winter depressions coming from the Atlantic, generating an average wind of 20 knots; the rest of the year is very frustrating with a sea breeze between 8-10 knots, which is perfect for kite foiling but not so much for kiteboarding.
Where to kitesurf in Punta Cana
1 – Playa Blanca
Most of the beaches in Punta Cana where you can kitesurf are private with paid access. Playa Banca is one of those, it's a good kitesurfing spot for experts as there are a lot of reefs. There you'll find a side shore wind and shallow water.
2 – Kitesurfing in Bavaro
Bavaro is a popular beach in Punta Cana, unfortunately, you can't kitesurf in Bavaro as there are too many boats and people in the water.
3 – Cabeza de Toro
For a beach without an entrance fee, check out Cabeza de Toro where you may be able to meet some kitesurfers. You'll also find side shore wind and shallow water, but almost no reef, making it perfect for all levels.
4 – Uvero Alto
The further north you go from Punta Cana, the more you will increase your chances of finding good winds for kiteboarding. Uvero Alto is another great kitesurfing spot in Punta Cana for all levels when wind conditions allow it. It's pretty much a wild spot, with little to no people, in a quiet setting.
5 – Aqua Park
There is also a very well done wakeboard park, with 2 pools for beginners to experts, near the city center. There, you'll find different technical jumping modules to improve your kiteboarding tricks. This will make up for a failed kite session due to too little wind.
Another option for kitesurfing in Punta Cana during your vacation is to take a trip to Cabarete or Las Terrenas, where wind conditions are optimal almost year-round. Cabarete is pretty far from Punta Cana, so Las Terrenas is your best option, you can even plan a day trip if you are short on time.
How to plan a kitesurfing session from Punta Cana
If you have already booked your holiday package in Punta Cana and you're there outside of the kitesurfing season (November to December) you can plan a day trip to Las Terrenas. It's a 4-hour ride, but it's doable in one day as the wind in Las Terrenas starts after noon. It is recommended to spend a night or two in Las Terrenas, to really enjoy kitesurfing and not feel rushed.
If you haven't booked your accommodation yet, you can rent a car and do a loop, spending a few days in Punta Cana, then heading to Las Terrenas, and Cabarete. Las Terrenas and Cabarete are reachable via public transportation too but it's quite a hassle. KiteWorld can also arrange for transportation to and from Las Terrenas if you need to.
Las Terrenas is a great kitesurfing spot near Punta Cana, the wind conditions are optimal with year-round trade wind and thermal wind averaging around 15 to 20 knots from December to September. The best part about kitesurfing in Las Terrenas is that there's almost no one in the water so you can practice and learn safely.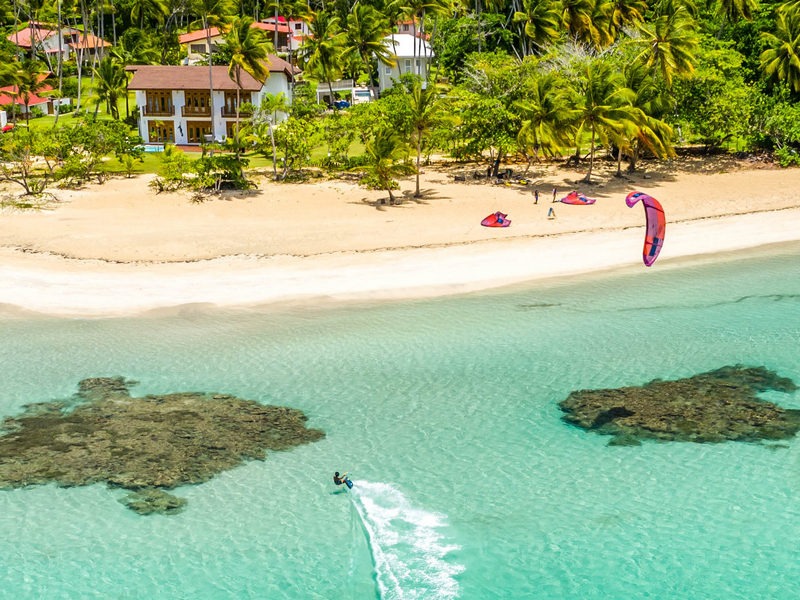 How to reach Las Terrenas from Punta Cana?
You can take a cab but the price is pretty high. It will cost you about the same amount as if you were to rent a car for 10 days! It will take you around 4 hours to reach Las Terrenas from Punta Cana, taking the highway and passing through the center of the island – be careful not to drive at night as it can become dangerous and above all, very tiring.
For travelers on a tight budget, it is possible to take the local "Espresso Bavaro" bus which leaves from the neighboring town called "Veron" (at the first crossroad near the gas station). This bus goes to Santo Domingo, you will need to ask the driver to drop you off near the "Las Americas" airport at the bus stop named "Parada Samana". From there, you will have to take another bus to reach Las Terrenas, it is recommended to leave as early as possible from Punta Cana in order to be able to catch the connection, the last one being at 2 p.m.
Road trip from Punta Cana to Las Terrenas
For the more adventurous souls who want to discover a bit more of the Dominican Republic, there is a beautiful road, north of Punta Cana, passing through the jungle. On your way, you can make a stop at the "Montana Redonda", a magical place where you'll get a panoramic view of the bay.
Then head to Sabana de la Mar, a small fishermen's village on the Samana Bay. You can just pass through or plan to spend a night or two and visit Los Haitises National Park, where the Tainos people have lived for centuries. The park is known for its rock formations – it has been nicknamed the Ha Long Bay of the Caribbean – and its caves, where you'll find petroglyphs and pictograms.
From Sabana de la Mar, take the ferry to cross the bay to Samana, the ride takes about 45 minutes. Then head to Las Terrenas where you can start kitesurfing.
You can take this route via public transportation, but the best is to rent a motorbike (cars can't go on the ferry) or hire private drivers (we can help you arrange for transportation).